Would you like to change your taskbar icons, but you don't want to spend a lot of time messing around with it? Then I might have something for you! Use this free tool to change your taskbar icons in Windows 7 with a single click.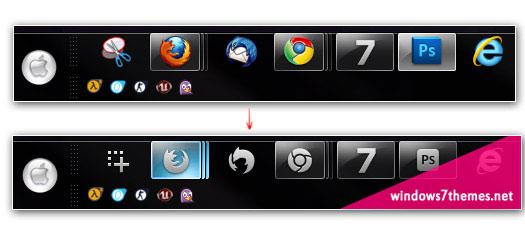 7Conifier – Taskbar & Start Menu Icons

7conifier is the tool that does the magic trick. It includes a couple icon sets for some of the most common applications like Firefox, Thunderbord, Chrome, Internet Explorer, Folder, Photoshop, Calculator, CMD, Adobe Bridge.
You might have something like this if you followed our site for a while:

But you can quickly change this into this with only a few clicks:


Or maybe this:

7Conifier includes 3 different sets of icons: Token Light, Token Dark and Eclipse 2. The sets include a lot of applications, but you will surely have a lot of apps that will not be included, e.g. Filezilla, VLC, Putty, etc.
Restore Original Taskbar Icons? 1 click!
Yes, you can easily revert back to the original taskbar icons, which is a great advantage of this program.
My Icons Did Not Change, What Now?
First, make sure to reboot your PC. Still nothing? Next, make sure to clear your icon cache database. How to do that? Read more here: How to clear icon cache
Download 7Conifier
You can grab this tool for free over at http://wronex.deviantart.com/#/d2xsha2. Wronex is the author of the tool, make sure to give him some feedback! Make sure to install .NET 3.5 on your system or it won't work. 7Conifier supports Windows 7 32-bit and Windows 7 64-bit.
Changing taskbar icons has never been so easy, so this is definitely worth a try and will possibly save you a lot of time.