Sometimes, you might want to clear the icon cache in Windows 7. You could probably just restart, but if you want to do it like pros, then here's a quick tutorial how to clear the icon cache without restarting.

Trivia: The icon cache is a database file that is usually very small, about 5MB.
Icon Cache DB Location
Windows has a file where it stores your icon cache. The file name is "IconCache.db" and can be found at the following location:
C:\Users\[insertyourusername]\AppData\Local
So, basically just open the folder above, make a copy of the file IconCache.db and delete the original one. Now restart your PC or end the process explorer.exe and restart it again.
Open up the task manager via CTRL + ALT + DEL and go to the tab processes: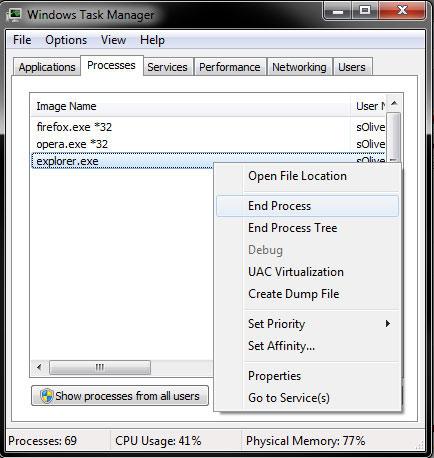 Restart Explorer (Run…)
Your taskbar will disappear. Now simply, click on "New Task" and enter explorer.exe to start the explorer again: