MS Paint is perfectly good for simple drawing and photo editing tasks, but it is also quite limited and doesn't have the features that you can find in other photo editing software tools. Listed in this article are five excellent free MS Paint alternatives.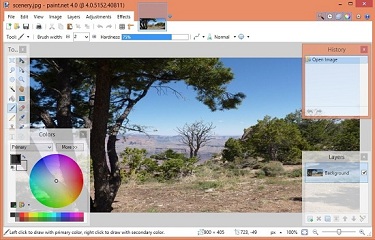 Microsoft Paint is OK if all you need is basic graphic editing tasks such as cropping and resizing or image rotation, and comes with quite a few tools like shapes, brushes, pencil, text, and several others. However, if you are looking for more flexibility and advanced features, you should consider using a third party image editor – the good news is that there are some excellent free ones out there.
Five free MS Paint alternatives
Paint.NET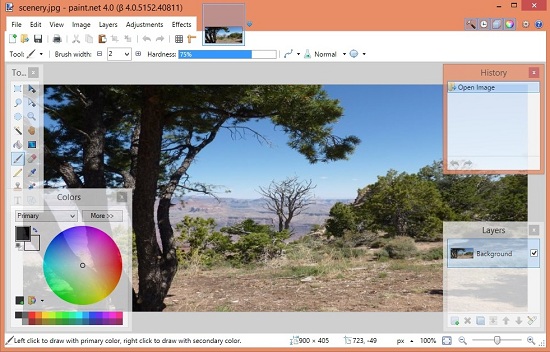 Paint.NET is a freeware graphic editor, which packs some powerful features and is also very straightforward to use. What can you do with this tool? You can crop and resize images, use layers, pick from an array of effects such as zoom and 3D rotation, Sepia conversion, red-eye reduction, distortion, sharpening, embossing, and color adjustment. Paint.NET supports all common image file formats and the latest release (requires Windows 7 or newer) offers even faster performance due to the use of true multithreaded rendering engine.
Gimp
Gimp has been around for almost two decades and has grown into one of the best-known and most powerful picture editing tools. In the long list of great features, you will find channel mixer, digital retouching, various selection tools, color picker, layers, layer masks, and channels. In addition, GIMP offers great hardware support and file format support; the more advanced users can even extend the editor's functionally by creating their own plugins.
Photoscape
Photoscape is a free image viewer and editor, which offers color and brightness adjustment, backlight correction, white balance, mosaic mode, text addition, red eye removal, filters and many more useful features. With Photoscape, the users can also batch-edit images, merge two or more pictures into one, attach multiple images both vertically and horizontally, and slice photos as well.
Irfanview
Irfanview is a free image viewer with limited editing options. However, if you ever find yourself in need of super-fast and light image software, this tool should be on the top of your list – you can use it to batch resize or rename images, batch scan, icon extraction, and multipage TIFF editing. The software can work with close to 100 image formats (viewing) and save the images in all of the widely used formats. Various effects, screen capturing, file search, color depth changes, directory view, and slideshow are also among the built-in features.
PhotoFiltre
PhotoFiltre is another free MS Paint alternative, which made the list even though it might not appeal to users that need a full-blown image editor. On the other hand, PhotoFiltre offers more than enough one-click image adjustments and filters, batch module, layer management, as well as advanced brushes.
Conclusion
Microsoft Paint is quite simple and easy to use, but there are other free image editors with features and built-in tools that support far more advanced image editing and manipulation. I have listed five of the best known MS Paint free alternatives with excellent functionality!