When all you need is a quick image edit and one-click photo effects, you might consider using some of the online image editors.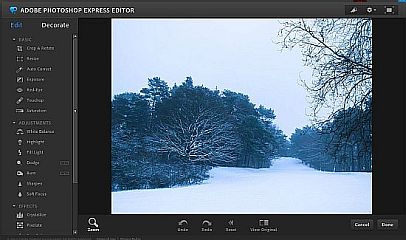 Free online image editors might not come with all the whistles and bells of their paid counterparts, but they are perfect for basic (and not so basic) photo editing.
The online image editors have many advantages – many of them are 100% free, they are fun to play with, and some are surprisingly powerful. In addition, they are great time savers since all the image editing happens inside your browser and there is no need to install or configure yet one more software tool on your already cluttered computer.
The top five online image editors
Pixlr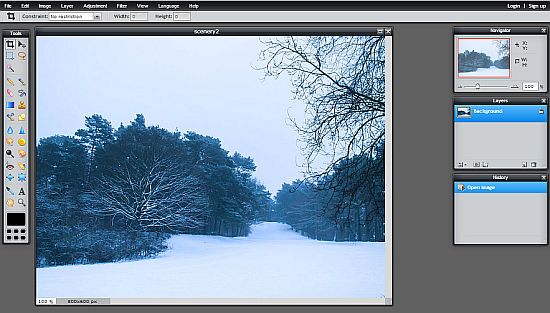 Pixlr is probably one of the most powerful online image editors as it comes with fully customizable user interface, numerous adjustment and layering options, as well as various filters. Although the Pixlr editor requires some basic image editing knowledge, even the less experienced user won't have a problem finding and using most of its options – you can simply start by uploading an image from your hard drive, apply a filter or two from the drop-down menu, try some of the adjustments, and once you are satisfied with the results, save the image back to your hard, to your Pixlrs library, Picasa, Facebook, or Flickr. On the same website, you will find Pixlr Express, an excellent one-click image editor, which lets you add borders, text, and effects, or make quick adjustments in seconds.
Photoshop Express Editor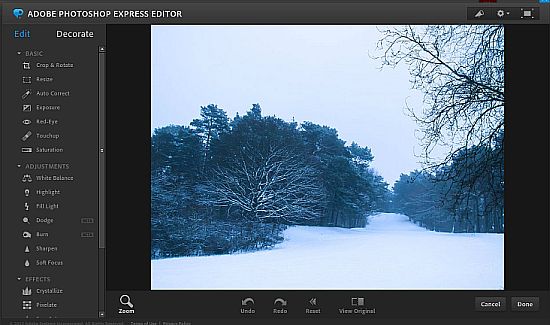 The Adobe Photoshop Express Editor might not pack all the features as the standalone software, but it is excellent free editor, which lets you crop, rotate, and resize images, use auto correction, exposure, red eye reduction, saturation, and touch ups. It also offers several effects and adjustments, however, at the time of this writing the Photoshop Express Editor supports only JPEG images (both uploading and saving to hard drive).
Sumopaint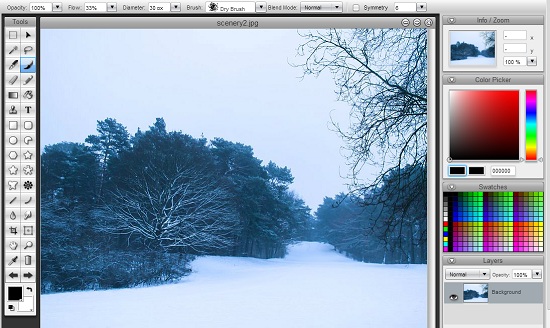 Sumopaint comes in three different versions, free, Pro, and Pro Plus, where the paid versions are ad free and have 35 Pro filters and tools. The free version packs more than enough tools for basic image editing and you can use it to rotate, crop, and resize your images and also change the image or canvas size. The available tools include Text, Lasso, Magic Wand, Rectangular, Rounded Rectangular, Line, Curve, Custom shape, and many others.
PicMonkey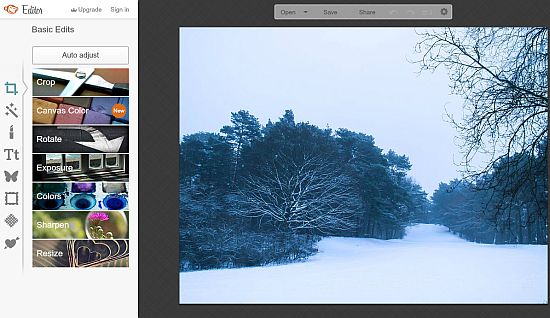 The free version of Picmonkey offers several pre-set photo effects, overlays, and frames. Amongst the best available features are the many touch ups, which allow you to use airbrush, teeth whitening, reduce shine, fix blemishes, or apply spray tan.
Picfull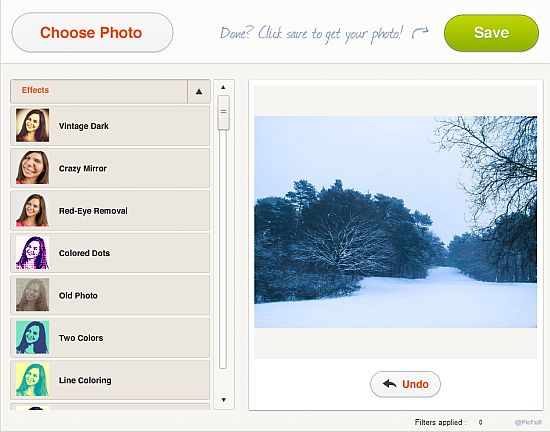 Picfull definitely lacks advanced image editing options, but it makes up for it with its simplicity and ease of use. If you want to do a quick and fun image edit before you send your latest photo to your friends or upload it to Instagram, then you might give this free online image editor a chance. You start by uploading a photo from your hard drive, then all you have to do is play with some of the available one-click effects, apply one or more of them, and save the photo back to your hard drive. All done in a matter of seconds!
Conclusion
The free online image editors come in all colors and shapes and while some of them are good enough for quick and fun effects only, others have quite powerful advanced options, allowing you to get creative with all your photos.