A guest post by Vivek N that explains how to convert png files to ICO files quite easily.

General Use
As a home user of computers while working with Microsoft Windows 7, it is expected that you will use your computer for entertainment and multimedia purposes. This further means that you will be fond of new and rich quality wallpapers, animated cursors and customized icons. There are several third-party applications which help users to create .ICO files from any image file. However these applications are costly and sometimes require additional processing and memory. To ease out this problem CONVERTICO offers online conversion of any .png file to .ICO file which can be used as icons in Windows 7. The features offered by the site are absolutely free of cost and no registration or conversion charges are to be paid by the user. As a home user if you want to convert any .png file to .ICO you need to follow the steps given as below:
Conversion
1Log into Windows 7 and open the Internet Explorer.
2In the address bar type http://www.convertico.com/ URL and hit enter key.
3On the opened page you can either type the URL of any .png file in the first available text box. Alternatively you can browse for and upload a .png file from your local hard drive in second text box.
4Once done, click on Convert button and wait till the conversion process completes.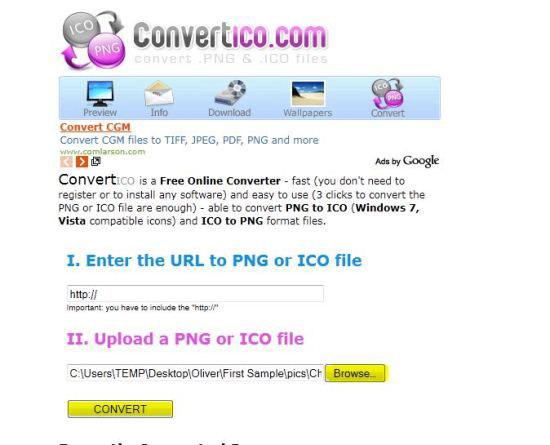 5Once the conversion process will be competed you will be displayed with a new page where you will find the link to download the converted file. Right click on Click here to Download link and from the menu click on Save Link As option to browse and save .ICO file.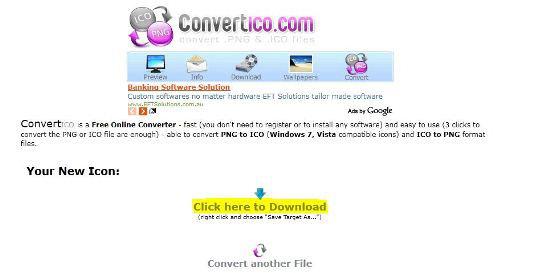 There are a bunch of other tools to convert PNGs or JPGs to ico files. If you're on Ubuntu you can look into imagemagick