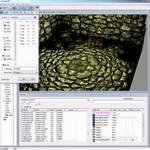 If you have downloaded the Skyrim creation kit, but you don't know how to get started, you should watch this video to learn more about creating mods and levels for Skyrim!
This is the first part of a 10-part series of tutorials how to use the Skyrim Creation Kit:
If you're not familiar with the TES: Level Editor from previous Elder Scrolls games like Morrowind, you will quickly find out that everything you see in Skyrim can be inserted as an object into your own levels. Creating dungeons gets really easy with pre-defined walls and objects. It's definitely a fun experience, something you can spend weeks on without losing interest.
If you are interested in creating entire quests, head over to http://www.creationkit.com/Bethesda_Tutorial_Planning_the_Quest to learn more about planning a quest.
You will find a bunch of interesting reads here that will help you to get started and create some really cool mods and levels within hours, but also experienced modders should check out creationkit.com for various advanced tutorials.