Google have made some changes to the Chrome browser which include disabling third party installs. Follow this guide to learn how you can manually install extensions once more.
New Changes In Google Chrome
Google have recently introduced some new security changes to their extensions system for their Chrome browser.
No longer will you be able to install extensions you source from anywhere else other than the Chrome web store itself.
There are a few different reasons for this new approach but one of the primary concerns for Google at this stage is the security risks that come side by side with installing extensions onto their browser from unlicenced sources.
However there is a work around if you still want to be able to decide for yourself just what extensions you want to install onto your browser and regain the freedom to choose where you source them.
Follow this guide to learn how you can still install extensions from sources other than the Chrome web store for your browser.
Step By Step
1. Step
Google's new stance on downloading and installing extensions is actually quite agressive. For example you will not be able to simply download the crx file of the extension you are looking to install and carry out the process manually. Immediatly the browser will recognize that the file did not come from the Chrome Web Store and halt the installation process.
The best way around this security mechanism is to actually install a developer version of Chrome which is quite a simple process in reality.
Simply go to the following link http://www.chromium.org/getting-involved/dev-channel.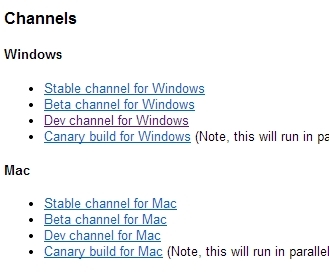 Look for the "dev channel" and carry out the installation like you normally would to gain access to the developer version of Chrome.
2. Step
Once you have installed the developer version of Google Chrome you will be once again ready to set up third party extension installs. This is quite an easy process that mirrors what used to work before the new security updates. Open up Tools and then Extensions and you will be set up to proceed.
3. Step
Now you have the developers version of Google Chrome open you should be viewing the Extension window after the previous step. Here you can install the extension you wish to align to your browser no matter whether you retrieved it from the Google Chrome webstore or from any other source.
Simply drag across the CRX file that contains the extension you wish to install.

Be cautious when deciding what security features to give to the extension especially considering it is likely coming from a non Web Store approved source.
4. Step
Your extension add on should now be installed to your browser. In some cases there is a final step that must be taken before the extension is ready to work.
Simply open up the options tab to finalize the setup and restart the Chrome browser.
Conclusion
If you are looking to install extensions from sources other than the Chrome Web Store than you should be fine if you carefully follow the steps in this guide. It is very important to remember why Google took the steps to block installs from third party sources in the first place however.
As they are likely not to be approved by Google or on the Web Store it is important to be very carefully with what you allow any third-party extensions to do or access on your browser. There are multitude of risks that can vary from popping up with annoying advertisments and redirects to much more serious issues like gathering your private information.