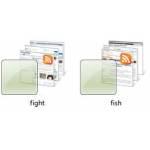 Your dynamic Windows 7 themes don't work? Here's why they might not work.
In general, make sure to disable IE proxies temporarily if you are experiencing problems
1. Dynamic Themes Need To Download Wallpapers First!
The main reason why dynamic Windows 7 themes do not seem to work at a first glance is that they need to download the content first. They are making use of a so called Media RSS feed. The Themes service downloads wallpapers from that RSS feed to a temporary folder, however until the wallpapers are downloaded your desktop will be simply black.

(Black desktop? Dynamic theme needs to download content first)
2. Dynamic RSS Feed Down?
The second reason is that the RSS feed might be down. If the source of your dynamic Windows 7 theme is down, it can obviously not download the wallpapers.
1. Step Open up the Internet Explorer
2. Step Click on the star icon at the top:

3. Step Check the RSS feeds that you are subscribed to, copy the links and visit the URL's to see if they are all up.
It's very unlikely that Microsoft's theme server is down, but you never know so just check it.
4. Step Optionally if you have too many RSS feeds, rename the dynamic .theme file to .txt, scroll down and copy the URL from there (RSSFeed=)
3. Next Desktop Background / Refresh
Right-click on your desktop background, click on Refresh and Next Desktop Background:
Sometimes dynamic Windows 7 themes seem to be "stuck". You can use the two tips above to make it work.
Where Can I Download More Free Dynamic Themes for Windows 7?
Head over to this page where you can download free dynamic Windows 7 themes
Let us know if you have any special requests for a dynamic theme!