Do you want to open RAR files in Windows 7, but you don't know how to do it properly? We're having mainly .zip files on our site which can be opened with the built-in Windows 7 zip-program, but to open .rar files you will need a 3rd-party tool. We recommend: 7zip!
7-zip is listed on our TOP 10 Windows 7 Apps List and allows you to quickly open RAR files and a lot of other files like gzip and tar files that are usually used on Linux operating systems
Open .tar, .rar., .7zip, .zip All-in-One solution
You can make 7zip open all the common compression formats (tar/rar/zip/7zip). WinZip and WinRAR can also open most of them, but they are not available for free, so 7zip is really your best choice.
So, download 7zip from above, install it and then click on "Tools" – "Options".
The following windows will appear: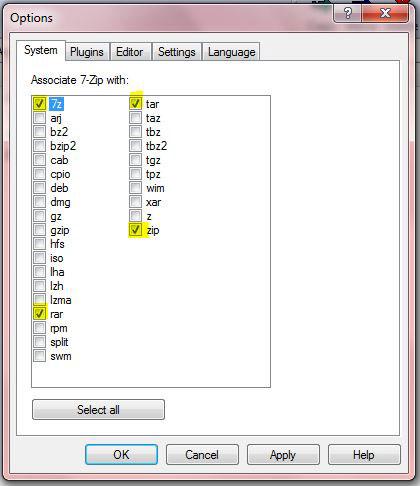 Check all formats that you want to open with 7zip.
7zip can open…
Currently supported formats are:
7z
arj
bz2
bzip2
cab
cpio
deb
dmg
gz
gzip
hfs
iso
lha
lzh
lzma
rar
rpm
split
swm
tar
taz
tbz
tbz2
tgz
tpz
wim
xar
z
zip
7-zip is quite handy and definitely makes opening files a lot easier. It not only handles rar files well, I still did not run into any problems with other extensions like zip or gzip or even tar.