We have regularly get new questions via mail. Here's a short wrap-up of when you need the Universal Theme Patcher to install themes and when not e.g. when you are installing themepack themes.
I would really love to use your themes, but I cannot get them installed. The one I downloaded has a ".themepack" extension and I cannot get UXStyle to work…I downloaded it (64 bit as that's what I need) and it isn't doing anything, I can't find the program on my system at all, and nothing that's supposed to be running for that program shows in my system task window.

Can you please let me know what other program I could use (easily?) to change your themes so that they just have the .theme extension?
Difference Between Themepack And Shell Theme
Before we start, answer this question:
Do you want to install a theme that has the file extension .themepack or is it a complex shell theme that actually changes the appearance of your operating system and has the file extension .theme and usually comes with a whole folder of files?

If the answer is that it is a .themepack theme, you can install the theme with a simple double-click. If it's not, then proceed with the next step.
Themepack File (Auto-Install) vs Theme + Folder (Manual Install)
Unless you are on Windows 7 Starter, you can simply double-click on .themepack files and they will be installed automatically, you do NOT have to install the UXStyle patcher for themepack files, only for shell themes that you find on DeviantArt. If you are unsure what Windows version you are on, hit Windows key + R at the same time and enter winver, then hit Enter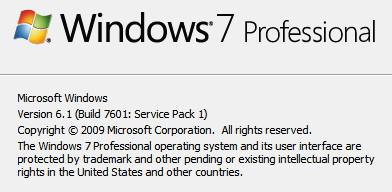 You should now see what version you are on. In this case Windows 7 Professional. If you are still on Vista, you can extract the content of Windows 7 themes
We have some detailed guide on how to install custom themes (that often include an entire folder and a single .theme file), the latest and most up-to-date guide can be found here: Shell Theme Install Guide. This should answer most of your questions if you intend to install some custom themes.
Short Wrap-Up
Download Universal Theme patcher here  and then patch your files and reboot, then you can follow our guide, it's a little tricky so I suggest to watch some Youtube videos as well if you have problems
Basically .themepack => doubleclick and its installed
.theme and folders => shell themes (require a little research, read article above)
There are currently no fool-proof tools for installing custom shell themes, but you will find all the tutorials on our site, read this too: