If you want to know how to backup server and even a complete corporate network, then you might want to try Handy Backup Server, which is a very reliable backup solution for enterprise networks.

The award-winning server backup software Handy Backup Server (by Novosoft LLC) has been designed specially for centralized backups of enterprise networks.  Handy Backup Server is perfect for a Windows server backup (including Windows 2008, 2003, 2000 Server). Creating a backup of all your workstations or your servers to a centralized location has never been easier.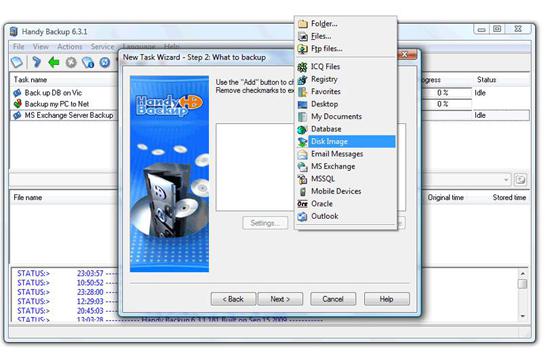 Is your (small) business protected from data loss?
Companies, be it a small business or a large enterprise with thousands of employees, all over the world have to protect themselves from data loss. Data recovery is very expensive and often only recovers small parts of data, so a lot of work will be lost if you lose any data. Manual backup is simply not a solution for any real business.  One of my favorite features is Backup to FTP. Often, you want to store your backups remotely, so this is definitely a handy feature.
Handy Backup Server is the best backup solution for: MS SQL, MySQL, DB2, Oracle, InterBase, Microsoft Exchange, Data
Handy Backup Features
Let's take a glance at the other features of Handy Backup.
Centralized backup. This can help you to organize the best backup management. All backup operations in the network can be performed by one person from the central server. Your employees may even be not aware that their work is backed up!
Database backup. Handy Backup Server has a wide range of functions for database backup. The utility is able to run backup of most popular ODBC-compatible databases: MS SQL Server backup, MySQL, DB2, Oracle, InterBase backup and other.
Exchange server backup. Microsoft Exchange mail server is used by most companies today, which means that a lot of important data is stored in Exchange Server. Handy Backup Server will allow you to easily back up, synchronize and restore email, calendars and other data.
Backup to FTP server. There's no doubt that remote data storage is more secure than a local one. This program will help you to back up your data to FTP/SFTP server – either your own or the special backup server in a secure data center.
Auto backup. A flexible scheduler gives you an opportunity to run your backup tasks automatically with any suitable period of time. Never waste time with manual backups again.
Windows service. Handy Backup Workstations run as a Windows service, providing the administrator access to back up all users' data without them being logged in.
Multi-threaded backup engine provides fast backups without interfering users' activity.
One-way and two-ways synchronization. You can easily synchronize folders and files between computers in the network.
Encryption, compression, masks, filtering. These and many other additional functions will help you to achieve the perfect backup strategy without any difficulties.
About Novosoft
Novosoft LLC was established in 1992. During the years of successful work this company has gained a good reputation and recognition of users throughout the world. Today Novosoft LLC is a prominent developer of computer and server backup software for home users as well as for small and middle-sized enterprises. The key product of the company – Handy Backup – is present in three major editions meeting every user's needs: Handy Backup Standard, Handy Backup Professional and Handy Backup Server. Depending on individual needs there are different customer solutions based on flexible plug-in system.