As the installed base for Windows 8 grows, we pause our Windows 8 reporting to bring your some of the useful tips and tricks that we have come across for the Developer build.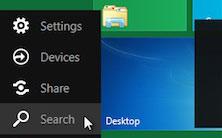 Useful Keybooard Shortcuts For Windows 8
When you boot in to Windows 8 for the first time, you might feel slightly alienated by the different UI and set up. This is especially true because most of us are hardcore keyboard and mouse users and Windows 8 is primarily touch-based (but everything can be done with a mouse and a keyboard). To make things easier for you, here are some important keyboard shortcuts that will speed up your workflow on Windows 8.
New shell keyboard shortcuts: –
WIN+I brings up the "settings" charm
WIN+W triggers settings search
WIN+C brings up the simple "Start menu" and time/date
WIN+Q brings up application search
WIN+F launches files search
WIN+O toggles the rotation lock
Most of the important older keyboard shortcuts still work on Windows 8 —
Hit WIN+D for Desktop
WIN+R still opens RUN
WIN+L locks the current user
WIN+E opens explorer
Other Useful Tips For Changing Settings Within Windows 8
When you are in mouse mode, you can hit the lower left corner (where the Windows button currently is on Windows 7 and older versions) to bring up the "options" charm.
You can move around on the Start Menu Tiles by using the arrow keys. Pressing enter will launch the highlighted tile. The menu button (the one with the little menu on it) will select the current tile.
Every application comes with a settings charm. This is where you can turn on additional features within the app.
If you need better visibility, you can enable high contrast mode by going to Control Panel > Ease Of Access.
When you are on the Start Screen, simply starting to type on your keyboard will take you to the search screen with what you have typed as the search query. So to find tweet@rama from the start screen, all you need to do is start typing "tweet" and you will see a list of apps that have the word in them.