Recently I received a mail from someone whose disk usage increased in Windows 7 by 20%. Now that's totally unacceptable! One of the best ways to find out what's taking up all the space is to use a disk analyzer. Windows 7 does not have a built-in disk analyzer, but there are many free tools that you can use to analyze your disk!
TreeSize Classic Disk Analyzer

The best free disk analyzer I know is TreeSize. I've been using the tool for a long time to analyze my disks and find all the large files that I have to take care of.
Immediately after starting, TreeSize Disk Analyzer will start to analyze your disk and list the large files and folders at the top:

It can take quite some time to analyze your disk, but scanning files always takes time and there aren't really faster disk analyzer tools out there.
Modern Windows 7 Disk Analyzer
The design of TreeSize is not really up to date, so if you are looking for a modern disk analyzer, try Extensoft's free tool: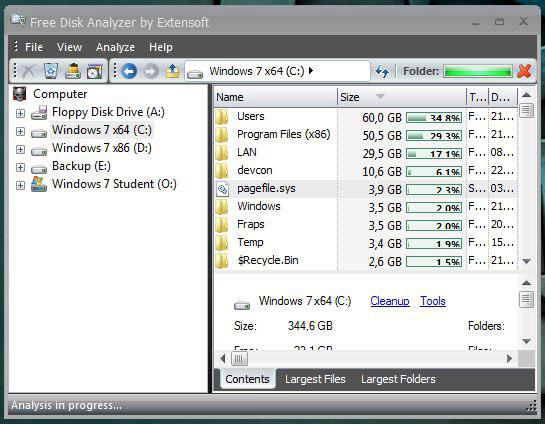 Download Free Disk Analyzer by Extensoft
GlaryUtilities: All-in-one-solution

Another great disk analyzer is the built-in analyzer of GlaryUtilities. I previously reviewed Glary Utilities and it's still one of the best choices for maintaining your system. You can read the full review of it here. It has so much more to offer than just a disk analyzer.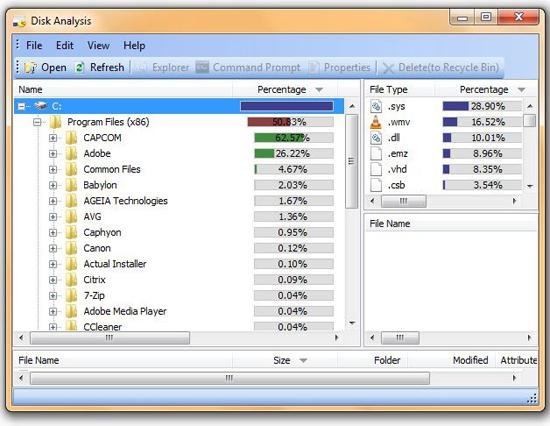 Need a Pie Chart?
The free disk analyzer above do not have that feature but the professional edition of TreeSize can print a pie chart: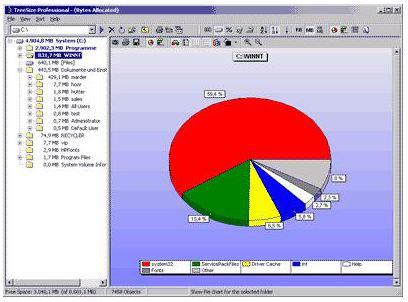 Disk Usage Gadget for Windows 7?
There are plenty of great Windows 7 gadgets that can help you to keep track of your disk usage. Check out the following package of gadgets: