And another freebie! A free professional Windows 7 Firewall. I've been using this firewall on Vista for ages and now it finally supports Windows 7! I'm talking about Agnitum's Outpost Pro (normally $40). They are now giving away a 6-month license for free, so get it while the supplies last!

Offer already expired? Click here.
Firewall with Stealth Mode
If you decide to install Outpost Pro, you'll never have spyware on your PC again. Outpost's Firewall is really good at blocking any malicious files. Another great advantage is the stealth mode. The stealth mode of Agnitum's Outpost Pro will basically make you invisible for remote pings and port scans (port scanner for Windows 7).
Integrated Ad Blocker + e-Mail Guard
Other useful features include Ad Blocker and a professional e-Mail guard. Managing inbound and outbound traffic becomes really easy with this firewall. All outbound and inbound traffic can be controlled via rules and when I write "all", I mean that literally. The built-in Windows 7 firewall is not good at blocking all outgoing connections, some applications can still bypass the firewall, but with Agnitum Outpost Pro you can control everything. At first this might be a bit annoying, but after a while, after you have created some rules, you will appreciate FULL control.
Download Free Windows 7 Firewall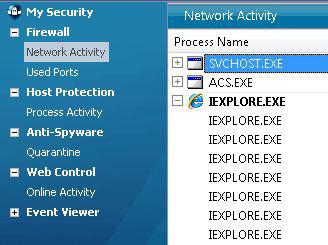 (Image: Control Network Activity)
You can download Outpost Firewall Pro here:
You will need the promo code: E9NZR-XY3RW-WK8CS-WKW85-XKNC2
Enter it along with your name and mail address and you will receive your free 6-month license. Make sure to download the correct installer for your Windows 7 edition (32 or 64-bit).
More Free Windows 7 Firewalls
I have previously reported about some great free Windows 7 firewalls. If this offer already expired when you are reading this, check out the following firewalls for Windows 7: