If your registry is corrupted, you can try various tools to fix this. The free Windows 7 manager gets the job done quite easily.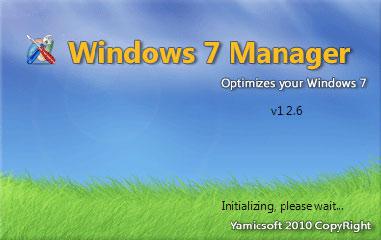 A corrupt registry is one of the problems that one might face from time to time. Each installation on the system creates an entry in the registry and power failure or disk failure during the installation process results in corrpution of the registry. A corrupt registry can be a real headache sometimes therefore it needs to be fixed as soon as possible. Here is what we found helpful in overcoming this problem.
1. StepDownload and install the Windows 7 Manager by Yamicsoft at Yamicsoft.com. Once the download has completed, run the Windows 7 Manager application.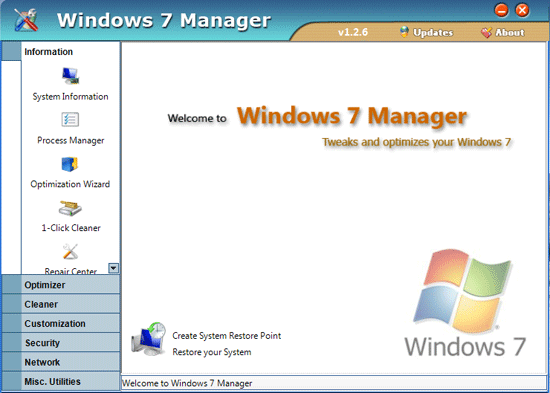 2. StepSelect the Cleaner option from the menu on the left hand side. A list of icons will appear. Click on the Registry Cleaner option from this menu.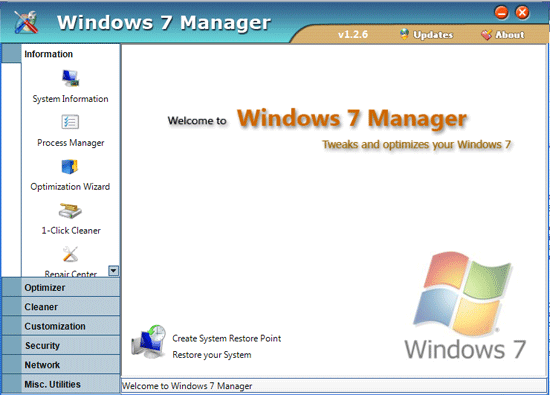 3. StepClicking on the Registry Cleaner option will provide you with another screen of Registry Cleaner application. From the left hand side Tick mark the entire Registry Entries and click on the Scan Registry button.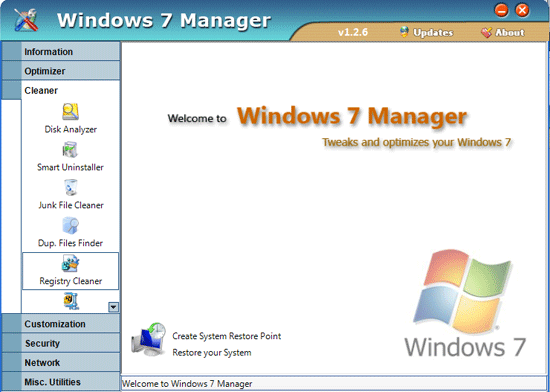 4. StepOnce you have clicked on the Scan Registry button, you will be provided with a dialogue box that shows you that registry is being scanned for errors.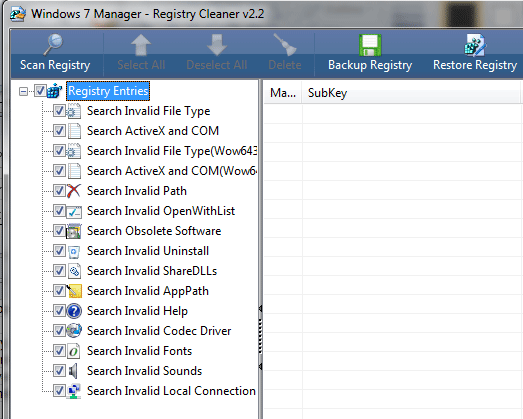 5. StepAfter a while you will be provided with a dialogue box that tells you the number of errors found in the registry. The search process is still now over so you have to wait for a couple of minutes before a list of the errors is generated.


6. StepOnce the list is generated you will be provided with items that have been searched highligthed in the left hand pane. In the right hand pane will be the list of errors found and other information about these errors.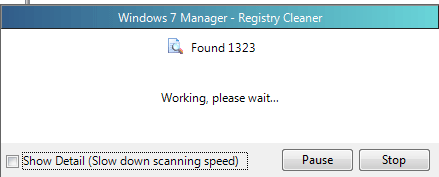 7.A set of tools will now be available to you from the top bar where previously on the Scan Registry option was available. Click on the Delete button from this menu. You will be prompted with a dialogue box that asks you to backup registry before deleting it. Click on the Yes button and it will start the registry backup process.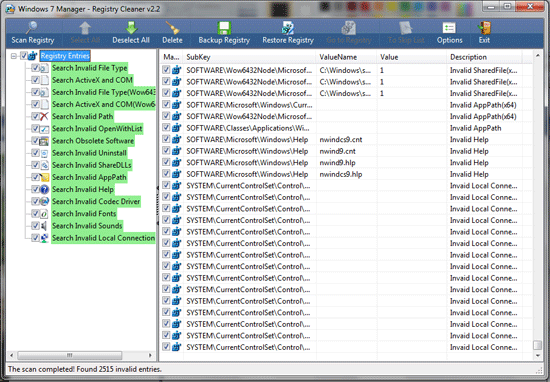 8. StepAfter the backup process has been completed you will be provided with a finish dialogue box asking you if you want to view the backed up files. Click on the No button.


9. StepOnce you click the No button from the dialogue box, the Registry Manager will start deleting the registry errors.


10. StepOnce the registry has been cleared and all errors and false entries are deleted you will be provided with the list of registry entries again. This time there will be no entry in the Right Hand side pane ensuring that all the errors have been resolved.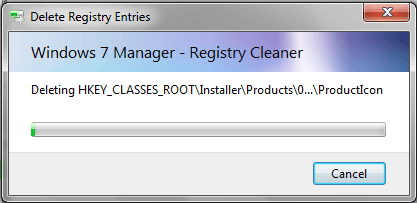 The process of cleaning your registry becomes quite easy and simple with the help of these instructions and the Yamicsoft Windows 7 Manager. In case you have any queries or problems, feel free to contact us.