If you're looking for a DIY option as a way to avoid a professional's fees, or you just want to create something completely original, the best greeting card software for Windows 7 can help you make the perfect greeting card for any occasion.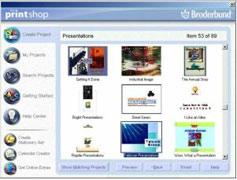 Corel PaintShop Photo Pro

Corel PaintShop Photo Pro may not offer intense and complicating graphic editing options, but its user interface makes it ideal for people who want to do basic photo editing. The program has a number of sharing options, and is specifically geared to work with YouTube, Flickr, and Facebook. The photo editor contains templates from other Corel products, like the Corel Digital Studio, but there are only a limited number of options available. The Corel PaintShop Photo Pro download is 479MB and may take some time to download, especially over a slow connection.
The Print Shop Essentials
Considered by some to be the best greeting card software for Windows 7, The Print Shop Essentials can be used to create a variety of other projects. The program is great for newsletters, presentations, resumes, CD labels, calendars, and more. There are more than 8,000 templates and 2,600 sentiments. In addition, the program features more than 115,000 graphics, photos, and Web art, including images from earlier versions of the software. The program is fairly easy to use, but it will take some time to get used to all of the features.
Photobie

Photobie photo editing software is completely free. It is ideal for those who are experienced at photo editing, but novices may find some of the program's special features a bit hard to master. When the program is open, the top of the screen has basic icons for things like printing or saving, and the right side of the screen has the photo editing options. There is also a very handy box which keeps track of which actions were done when. Users can have fun with the advanced features which includes GIF animations and 3D cubes.
Ashampoo Photo Commander
Ashampoo Photo Commander does just about everything related to photo editing. Unfortunately, placing everything on one page makes for a slightly confusing and somewhat overwhelming user interface. However, the software features a variety of wizards and "how to" pop ups that users will appreciate when getting used to the software. There is also a very comprehensive help file. The abundance of features may be overwhelming for newbies, but enthusiasts in the field will find the time spent learning the program to be well worth it.
The best greeting card software for Windows 7 provides users with a dizzying array of photo editing options. Some of the programs offer a friendly user interface as well as a few basic controls. Others offer almost every feature imaginable and crowd them onto the screen. Whether you are a photo editing novice or an experienced professional, one of the best greeting card software for Windows 7 mentioned above is sure to have exactly what you need.