If you want to disable themes in Windows 7, read this easy tutorial.

Shutting Down The Windows Themes Service
In order to fully disable themes we are going to stop the "Themes" service, basically a Windows service that allows you to have those cool Aero effects, like a transparent Aero taskbar and Windows 7 shell.
If you not only want to disable themes in Windows 7, but also a few other services that consume resources, you're probably better off if you read our general tutorial how to disable services in Windows 7.
1. Step Enter services.msc into the search bar on your Start menu and hit enter to open up the service list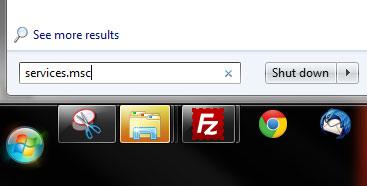 2. Step Scroll down until you find "Themes"
3. Step Select the item "Themes" and click on the hyperlink Stop as seen below:
4. Step The Windows 7 themes service is now disabled. However, users can enable this service at any time if they know how. So, if you are not disabling themes in Windows 7 for performance reasons and you don't want other people to mess around with your computer network you can prevent that change themes at all.
System Admin? Prevent That Users Change Windows 7 Themes
You can not only disable themes, you can prevent that ANY user on the computer can use them!
Use the group policy editor to prevent users from changing the desktop background or Windows 7 themes