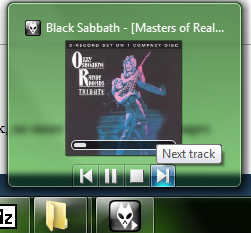 So, you now know the best Windows 7 audio player. There's a nice Windows 7 gadget for foobar that allows you to integrate foobar into Windows 7 and control foobar right from your taskbar! It's definitely a must-have plugin for foobar and Windows 7 users.



1. Step Download Foobar Windows 7 Shell Integration

2. Step Extract the zip file and copy the file "foobar-windows-7-shell-integration.jpg" into the components folder in your foobar2000 folder.
The folder is usually located at: C:Program Files (x86)foobar2000components
Simply copy the file there!
3. Step Restart Foobar if it was currently opened.
4. Step Enjoy full foobar Windows 7 integration and control foobar playback from the Windows 7 taskbar. Switching between tracks becomes a lot easier: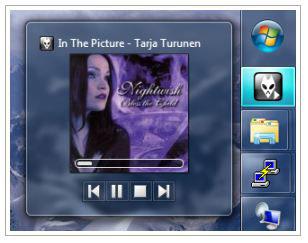 Windows 7 Shell Integration Features:
Album art in thumbnail
Play/pause/stop/next track/previous track buttons in thumbnail
Progress indicator
Customizable jump lists
Overlay icon to display play/pause state
It's just like iTunes now that also allows you to control the audio player from the taskbar. The plugin/gadget also supports jumplists, which is quite handy for foobar to play your foobar playlists: