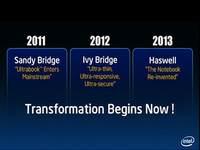 The Haswell microarchitecture is an Intel project that has been going on since 2008 and Intel recently showed off an Ivy Bridge-based Haswell Ultrabook reference design running Windows 8.

Is Windows 8 Pushing Intel To Hurry Up With Haswell?
The answer to that question might lie in the fact that Intel has begun showing off reference designs for the Haswell microarchitecture publicly. Down in Sao Paulo, Brazil, Intel is hosting the 2012 IDF and that is where Intel Brazil executive Fernando Martins showed off a reference design for an Ultrabook running on Haswell. Initially thought to be running on an actual Haswell CPU, Intel later clarified that the ultrabook was merely a reference design based on the recently released Ivy Bridge and running Windows 8 as the OS.
The ultrabook comes with a touchscreen, which the current ultrabooks don't have as a standard requirement, yet. Haswell will bring Intel that much closer to the mobile industry that is so desperately wants to be a part of. And if the promises are kept, Intel might be on to something really big here.
Features touted for the Haswell line includes 20 times less power consumption and also a 10 day stand by period. That is downright incredible when compared to the current Ultrabook standards and is still quite impressive when compared to the smartest of all smartphones. Added to that is the benefit of having really slim devices that will rival even the slimmest ultrabooks of the day. Figure it all in and you will understand why a combination of Windows 8 and Haswell is something to get excited about.
But when will it all happen? Well, given the fact that Intel is already showing off a reference design, it might happen soon enough. Perhaps mid to late 2013. Intel just says 2013. However, the company has just started rolling out Ivy-Bridge and it will be a while before they get on to the next release.