If you receive a lot of emails you might consider setting up an email server in Windows 7. This gets really easy wit these free email servers for Windows 7.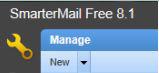 Searching for a functional free email server for Windows 7 reveals many free email clients, but only a handful of free email servers. However, there are some great programs available that are easy to use and require minimal setup, though some are restricted in how many users accounts can be created on a single server.
hMailServer With IMAP, SMTP, POP3
hMailServer is a free email server for Windows 7 that supports IMAP, SMTP, and POP3 email protocols, making it compatible with most email clients. Installation and configuration is easy, and requires no editing of the .conf or .ini files, like other free email servers. Receiving support for this product is easy, as hMailServer boasts an active forum community. With virtual domains, built in anti-spam and anti-virus protection, multilingual support, a SQL backend, and SSL encryption, hMailServer truly is a powerful, yet simple email server.
Gattaca Mail Server

Gattaca Mail Server is compatible with any SMTP or POP3 email client, such as Microsoft Outlook or Mozilla Thunderbird. It contains group support, allowing administrators to group users into logic groups and subgroups for easy user management. Gattaca Mail Server has an internal anti-spam engine as well as SpamAssasin, a popular third party application. It utilizes a remote console for administration that displays active connections, allows the administrator to erase or register mailboxes, and contains a statistical analysis tool for viewing the server activity.
Free SMTP Server: Basic Mail Server
Free SMTP Server is a basic free email server for Windows 7. It allows users to send emails directly from their desktops, and is extremely simple. It supports all SMTP servers, but is optimized to work with Windows Outlook. It is extremely fast, due to its simplistic design, and establishes multiple SMTP connections at once. The program is relatively small, only 619 KB, and contains clear directions for setup. It is very easy to learn, and is targeted towards users who frequently travel abroad.
SmarterMail Free Edition
SmarterMail Free Edition allows for up to ten mailboxes on a single domain. It has multi-language support via free language pack downloads, and includes a spellchecker that works with over 20 languages. SmarterMail is completely free, with no time limit and contains no pop-ups. It is compatible with SMTP, IMAP4, POP3, and LDAP and is optimized to work with Microsoft Outlook as well as Mozilla Thunderbird and Lightning. Administrators have full control over domains, users, and RSS feeds.
MDaemon Mail Server
MDaemon Mail Server is another great free email server. It supports up to five separate users, and is available in nine different languages. It is easy to use, and installs in under ten minutes. MDameon Mail Server is compatible with POP3 and SMTP clients, and supports remote browser-based administration making it easy to manage the server. It allows users to be sorted into easily managed groups. MDameon also has a wide array of security features, making it a reliable and safe server for anyone looking for a great free email server.
Some of these servers may be limited in what clients they work with or how many users can be created. Nevertheless, they are great for companies and individuals looking to manage efficiently their own email server.