Do you want to get a MAC Address from a specific IP? If so, here is a very handy tool that will allow you to enter an IP address and get the assigned MAC address or get all addresses in a LAN. You can get ALL MAC addresses on your entire network that way!

MAC Address Finder (From IP)
The MAC Address Finder Tool can find MAC addresses and a lot of useful information via IP remotely. You enter an IP address and you automatically get all the information that you need. Another handy feature is the "Get All" button, which will get all MAC addresses of ALL devices and computers that are currently connected to your network (they need to be in your network to get the MAC addresses remotely).
The MAC Address Finder Tool is not freeware, but is available for a very small Paypal donation of $3.99 or a short survey.
Get *ALL* MAC Addresses On Network (LAN)
If you don't like messing around with the command prompt and prefer a GUI to get all MAC address on your network, you can use our tool to find all addresses. That is very handy, even if you are familiar with the command prompt.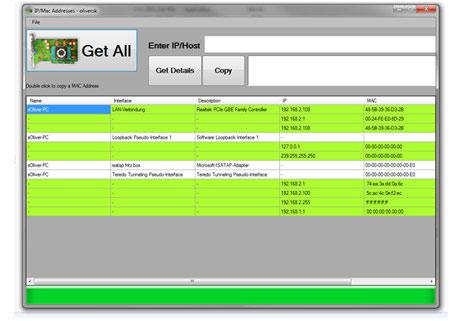 Get MAC Address From IP / Remotely

With our handy MAC Address Finder tool you can easily retrieve a MAC Address from an IP remotely. You simply enter the IP address of a device or computer and click on the button Get Details. The MAC Address will then be displayed below. You can then click on Copy to copy the MAC address into your clipboard. Easy, huh? All of this works remotely and you no longer have to check your devices manually.

Export MAC Address to CSV
The MAC Address Finder can not only get your MAC address from an IP, it can also export all MAC addresses to a CSV Excel file. This is very handy for managing your MAC addresses in a neat Excel table and save it on your PC for later. You will be surprised how often you need to know MAC addresses on your LAN network. For example, you quite often need the MAC address of your XBOX or if you want to restrict access to your router by MAC address. Our handy tool will get the job done and save you a lot of time and trouble.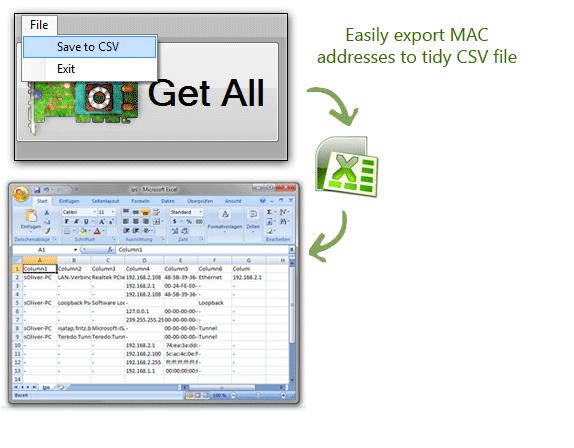 On a sidenote, I highly recommend to limit access to your entire WLAN by MAC Address. Luckily, MAC addresses don't change. So, with our tool this is quite an easy task.
Download MAC-Address-Finder 1.3
You can either complete a short survey or donate $3.99 to support our development. This tool WILL save you a lot of time and has some handy features like Excel CSV export, so it's a really good deal. You'll also get full support: