The new year is about to start. If one of your New Year resolutions is that you want to start organizing yourself, then a Google calendar gadget for Windows 7 might come in handy.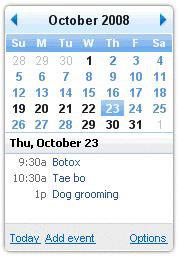 The easiest way to access the Google calendar on your desktop is to install Google Desktop first and then install the Google gadget. If you don't want another sidebar (Vista and Windows 7 already have one built-in), you can subscribe to the Google calendar instead. This tutorial will show you both methods and you can then decide for yourself.
Method 1: Google Desktop
The Google Desktop sidebar is a clone of the Windows sidebar and looks very, very similar. It comes with many pre-installed gadgets: scratch pad, facebook photo gadget, CNN news gadget, photo slideshow, weather gadget, a clock and a google search at the bottom. Give it a try and then decide for yourself if you want to ditch the Windows sidebar.
It now fully supports Windows 7 64-bit!
Download Google Desktop (Windows 7/Vista/XP)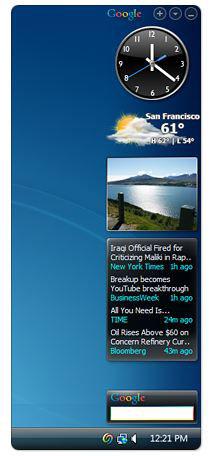 Google Calendar Gadget for Google Desktop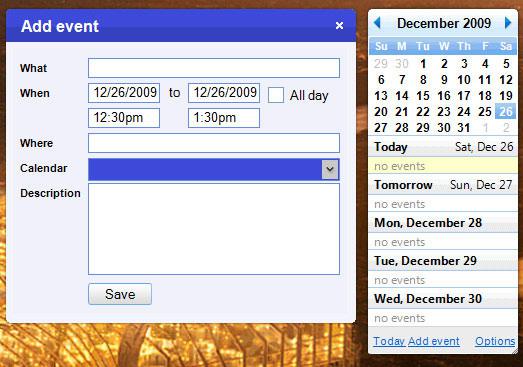 Method 2: ICAL Google Calendar for Windows Sidebar
You can give other applications access to your Google calendar. The Windows sidebar requires the format ICAL. You can find the address to your ICAL Google Calendar on the settings page of your Google calendar.
It's a bit tricky to find it.
1. Step Sign into your Google calendar https://www.google.com/calendar/
2. StepAt the top row you will find a link to the "Settings"
3. Step Switch to the tab "Calendars"
4. Step Click on "Share this calendar"
5. Step Switch to the tab "Calendar details"
6. Step On this page you will find the following buttons. Click on ICAL button and copy the address.

Next, go back to your Windows Calendar gadget and click on "Subscriptions". Insert the address of the ICAL calendar: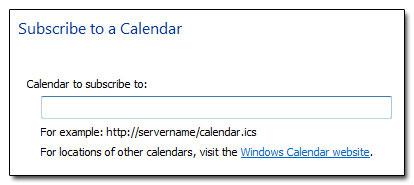 Alternatives
If you are looking for a good free desktop calendar for Windows 7, you might also want to try out Rainlendar or the Windows Live Calendar Gadget: