Another productivity tip! If you want to merge multiple txt files into one file, you should read on for a how-to.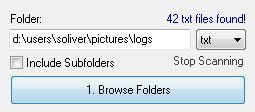 1. Step Head over to http://bluefive.pair.com/txtcollector.htm and download TXTcollector
2. Step Run the tool: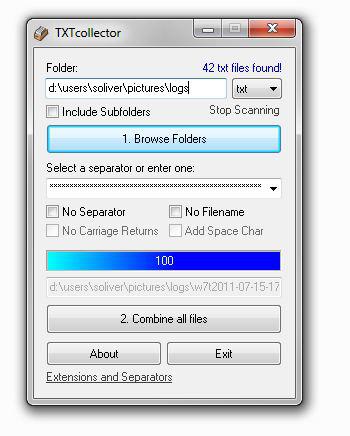 3. Step Click on Browse folders and select a folder with multiple text files. If your files have any other format, see if you can select it from the dropdown. Available formats: bat, cfg, csv, dat, htm, ini, inf, log, reg, tag and xml. Your files don't have an extension but can be read with a notepad editor? Use a bulk rename utility to rename your files to .txt
4. Step You can select a separator or not.
5. Step Click on Combine all files to merge all your text files into one file.
6. StepHandy! You can now use excel to work with that big text file or whatever you want to do with it.