Are you annoyed that every program nowadays tries to install toolbars and whatnot on your PC? Here's a way how you can quickly remove multiple toolbars without going through the trouble of removing them one by one.

The Multi-Toolbar Removed is designed to remove all entries of many Toolbars. It is designed to work with all versions of the toolbars listed below
Google Toolbar and QuickSearchBox
Yahoo! Toolbar
AOL Toolbar
AOL Radio Toolbar
AOL News Toolbar
AOL Email Toolbar
AOL TalkTalk Toolbar
Comcast Toolbar
ASK Toolbar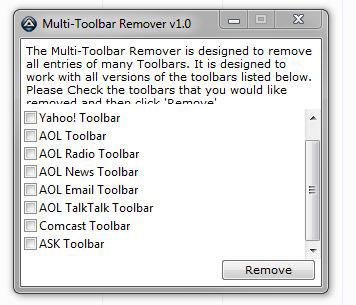 There are plenty of other toolbars, which the tool is not capable of removing. Often, you need to do a little research how to remove a toolbar, because they are tightly integrated into your browser and will change your default homepage and search engine.
Head over to http://autoclean.computersitter.com/downloads to download the Multi toolbar remover.