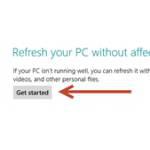 Messed up your system? You can try to reset it to factory default without losing any data!
A system reset feature wasn't present in Windows 7, but it is in Windows 8. I personally like it since it has helped me a couple times refreshing my PC without losing any important data. While keeping your personal data, Metro style apps, and important settings stored you can safely & securely re-install Windows 8 hassle-free. If your system came with a recovery disc, Windows 8 would use that, else it would use the same installation disc to refresh your PC. The refresh feature is somewhat close to the system repair feature of Windows 7. Your PC would boot into the Recovery Environment, scan your PC, keep the important data, and install a fresh new copy of Windows 8. No files or important data is lost during the entire process. Here is how to do it:
1. StepMove your mouse to the top right corner of your screen and click Settings when the Charms bar appears

2. StepClick Change PC settings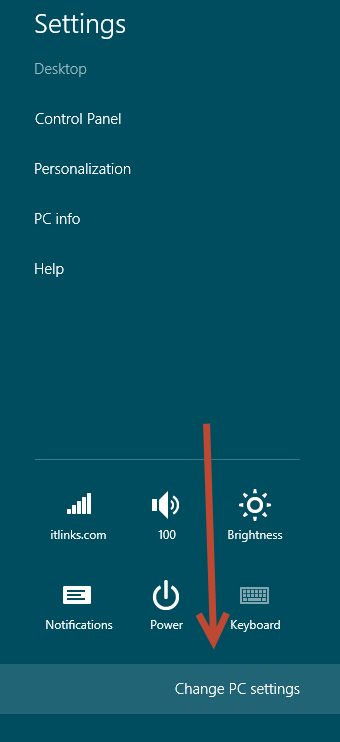 3. StepClick General and under Refresh your PC without affecting your files option, click Get Started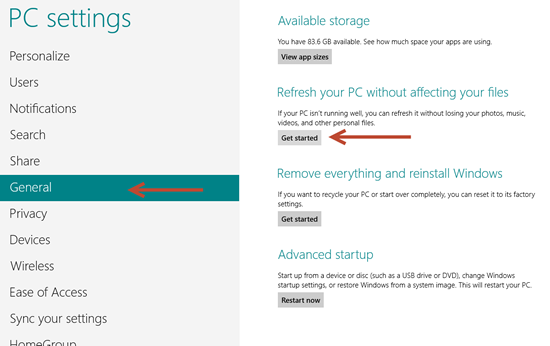 4. StepYou would see a message telling you that your data what would be saved. Click Next and the system would restart to be refreshed. When finished, you would be able to sign back in Windows 8. Once you sign in, you would see the Removed Apps file on the Desktop detailing the software that was removed during the system refresh.