In today's investing world, the need to constantly keep up to date with your investments is more crucial than ever before. Often times, the mention of a companies stock either on television, radio, Internet post, blog, or even tweet can send a companies stock value up or down.
With the advent of social media, individuals and stock traders also need to keep up with the daily goings of their stock portfolios due to these volatile motions of their stocks. But, with technology and stock market software constantly evolving, the ability for investors to monitor their stocks in real-time is easier than ever due to the software and technologies behind it.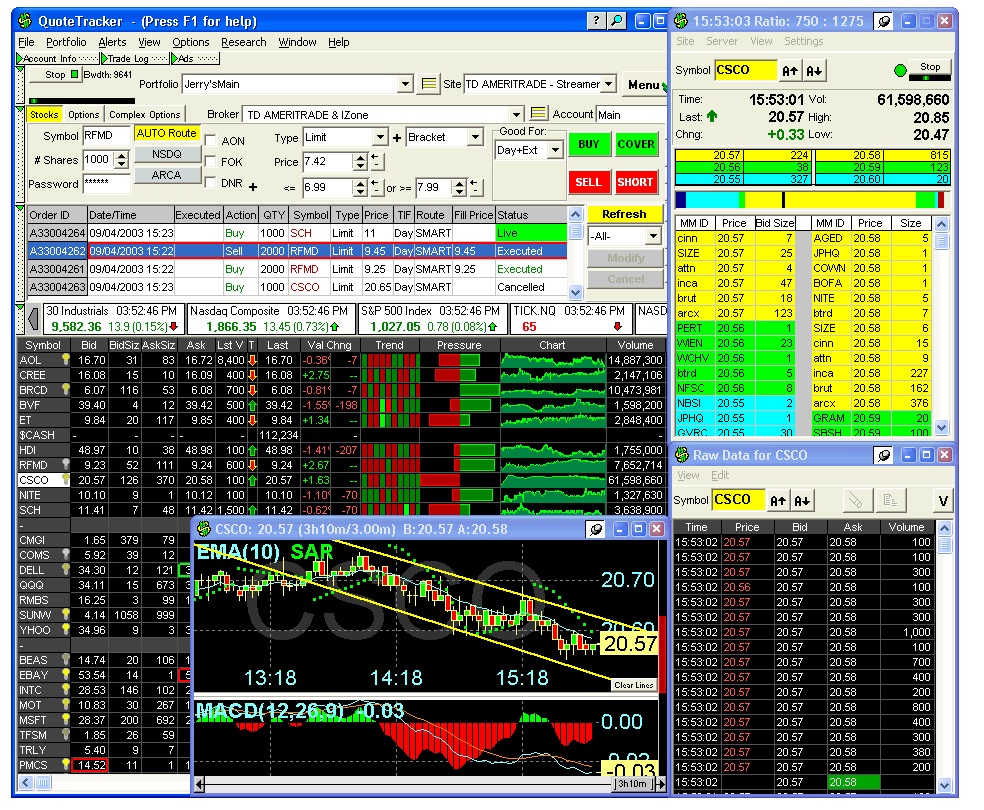 Why Monitor and How To Monitor Stocks
The emphasis on stock trading software is the basis for many investors and their needs to monitor their stock investments. Stocks move on a moments notice, and the ability to track their movement and monitor their trading price is essential to any investor. With day traders in particular, having real-time prices, analysis on the price, the ability to see their portfolio moves, and realizing their investment position is the guidance behind the need for powerful and reliable stock monitoring software.
There are a range of different stock monitoring software products on the market today. Whether it's a simple version for via personal finance programs like Quicken, longer term investors with mutual funds via Fund Manager or Investment Account Manager, or short-term or long-term investors via other packages, there is a number of different options available. It's important to know the type of investor you are, and how you want to monitor your stocks. By finding the right software, you will know what to track and how often to track them in today's stock market environment.
Stock Market Eye Review
First of all, we will take a look at Stock Market Eye. This product is available for Windows, Mac, Linux, and has a mobile app. The goal behind the windows stock monitoring tool is to easily analyze portfolios, investigating investments, and of course to track stocks, mutual funds, ETF's, and currencies. Users can quickly import their stock portfolios from their brokerage accounts and get started easily. With Stock Market Eye, the ability to analyze investments and researching the ability to make more income from potential new investments has never been easier. What is also important about this windows based software, is the way to analyze past investments and make sure you don't suffer from any mistakes made in the past. The software is available for a 30-day free trial, and then is available to purchase for $60 on the site. This makes a great first try if you are looking for a windows stock monitoring software tool, and makes for a piece of software that doesn't cost an arm and a leg.
Fund Manager For Mutual Fund & Stock Traders
Another windows stock monitoring software that is very popular among traders is Fund Manager. This portfolio management software is available in three different versions, and allows investors to track stocks, bonds, fund, options, bonds, and more. Via graphs, reports, calculations, and bond calculations, users are able to monitor their investments in real-time. The Fund Manager software is available in a personal, professional, and advisor package. The number of overall investments in a portfolio and the need to get advanced trading analytics and alerts makes the difference in the various packages for investors. The most advanced package, the advisor package, also bundles client management support, graphs to clients, broker-dealer interfaces, and disclaimers that an advisor might need for their financial clients.
Quotetracker: An Oldie But Reliable Stock Tracker
One of the windows stock monitoring software programs that has been in existence since 1998 is Quotetracker. Quotetracker is offered via TD Ameritrade, and offers real-time quotes, live intraday charts, historical charts, and streaming level II quotes all for free. Included with Quotetracker are over 120 different technical indicators including news monitoring, custom portfolio views, multiple portfolio support, and many more features. It is important to note that the free version does contain ads, is somewhat limited to 2 days on intraday charts per the website, and 6 months on historical charts. When investors open a TD Ameritrade account though, the software is available with more options and without limitations.
In addition to these windows stock monitoring tools, other ones include Investment Account Manager, Internet Quotes Assistant, ScotttradeElite for Scotttrade holders, TradeTrakker, QuantShare IX, HGS Investor V8, and VectorVest. Each one of these software tools has pluses and minuses and should be researched prior to purchasing and using on your investment portfolio. Free open-source ones are also available via icarra2, Market Browser, and JStock.
Overall, there is a large market for windows stock monitoring software tools for investors available today. It's a matter of deciding what type of investor you are, how intricate of controls and charts you need on your investments, and what type of data you want to track on your stocks. Be sure to check them out and invest with care.