QGifer is one of the latest of a number of GIF makers helping populate the current onslaught of GIF animation across the web. Although GIFs have been with us for years, lately they have grown extremely popular on sites like Reddit and humor blogs.
If you are ready to jump on the GIF bandwagon, you'll need to choose the right program. Download QGifer here
Promising Start
For Windows, some of the more popular packages include Photoscape, Microsoft GIF Animator and GiftedMotion. QGifer offers a number of features that should help it quickly join the list of top packages.
QGifer is open source, with downloads currently hosted at Source Forge. That means you can use it for free, so you can download a fully functioning version out of the gate. It is considered a beta version, but doesn't exhibit any of the strange behavior of unfinished software.
Load Video
To get started, you load a video which will appear in the viewer.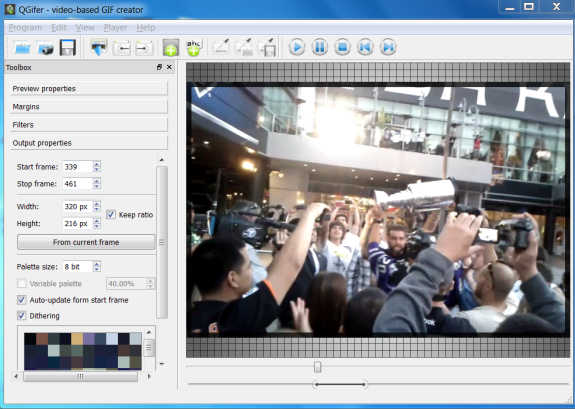 Next, select the portion of the video you want to turn in the GIF. You can use the sliders, or manually enter the number. Choose the width and height–keep in mind that the larger the dimensions, and the longer the video segment, the larger the file size will be–one of the appeals of GIF files is they can provide moving images in relatively small file sizes.
Add Text
Now you can add a watermark or text to the GIF. You may want to add some notation, humorous comments, or your website URL.
You can save your work as a project, or simply click the Extract GIF button on the top graphical menu, and QGifer will begin to render the frames.
Once the rendering is finished, the GIF will play in a previewer in a continuous loop.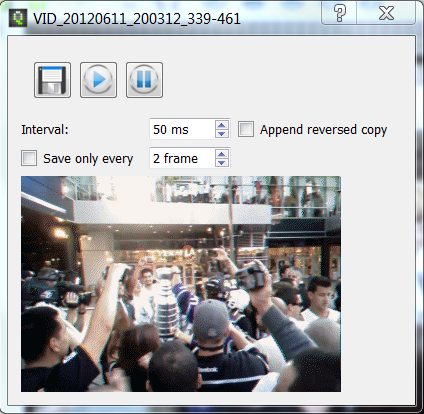 You can use the previewer to change the interval if you choose, or skip frames in order to keep the file size down. Once you are happy with the result, click the diskette icon to save it to your hard drive.
Smooth and Fast
Some open source programs are a little complicated to get set up and running. QGifer is the opposite: It downloads with no problem, starts up smoothly and runs great. If you are looking for a free, powerful GIF maker, QGifer may be the one for you. It works with Windows versions including XP, Vista, Windows 7 and Windows 8.