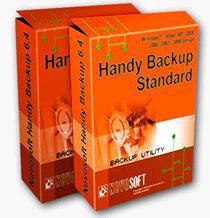 Don't wait until there's an emergency, because then it's too late. You should regularly backup all of your important data. One of the best backup solutions for Windows 7 is HandyBackup.
We're giving away 4 copies of HandyBackup Standard 6.6 (retail value $40), all you have to do to qualify is to post a comment on our site.
HandyBackup is a great backup program to backup entire folders or individual files. Free plugins allow you to backup the folder "My Documents", the Windows registry or your Outlook e-Mails.
Backup to any place: You can backup your data to DVD, CD, external hard drives or even to remote FTP servers.
Encrypt sensitive data: You can encrypt and compress sensitive data, so only you have access to your data.
Scheduled backup: You never have to do backups manually. HandyBackup will save you a lot of time and trouble, thanks to the built-in backup scheduler that will backup your files on a regular basis.
Run as service: If you don't want to log into your PC to backup your files, you can run HandyBackup as a Windows service.
Free Backup Plugins
Backup the following applications with free plugins for:
Mozilla Thunderbird (backup all your emails)
The Bat Pro
AOL Instant Messenger
Yahoo Messenger
Mozilla Firefox
Winamp
Adobe Photoshop CS2
So, what are you waiting for? Leave a comment on our site and win a free copy of HandyBackup 6.6 Standard
All comments during the next 2 weeks qualify for a free copy of HandyBackup!