Here's the official Windows 7 shortcut installer 1.0!
This will install the following shortcuts right on your desktop: A shortcut … to restart, to shutdown, to lock your PC, to hibernation, to switch user accounts, to network connections, to your screensaver, to sleep and right to your desktop!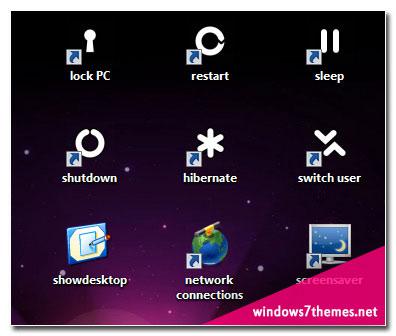 This freeware installer is perfect if you want some handy shortcuts on your desktop or your taskbar (you can of course pin all of the shortcuts to the taskbar).
Download Shortcut Installer 1.0
Important: There is a shortcut installer for Windows 7 32-bit and Windows 7 64-bit. If you don't know what Windows version you have, please read this: What Windows version do I have, 32-bit or 64-bit?
Download Windows 7 Shortcut Installer 1.0 – 32-bit
Download Windows 7 Shortcut Installer 1.0 – 64-bit
The shortcut installer comes with a free translation software that you can install on your system optionally.
Customize Screensaver Shortcut

You have to customize the screensaver shortcut if you don't want to launch the built-in Bubble screensaver of Windows 7. Simply go to your C:/Windows/System32 folder and find your screensaver. You can easily find your screensaver, simply sort by type and search for the filextension .scr. Then right-click on the screensaver shortcut, click on Properties and replace Bubble.scr with your own screensaver.
Additionally, you will have to know how to clear the icon cache in Windows 7, because the "shortcut to desktop" icon will appear only after a reboot or if you clear the icon cache:
Creating Shortcuts Manually
If you want to create the shortcuts manually, you will find some useful guides here:
The shortcut installer will do all the work for you and add the shortcuts to your desktop. Best of all, you don't even have to add the shortcut icons individually!