If you want to protect your folders and files in Windows, you need a folder lock software that can password-protect them. Here are some of the best paid and freeware tools to lock whatever you want.
Why Protect Files?
File protection is an important factor for anyone who works on proprietary information. Devices can get lost or stolen, and sometimes files and folders need to be inaccessible to general users, especially if you're using a shared home computer. Software goes beyond that platform's standard user authentication and enables you to truly secure your files and folders.
Windows Security: Not Sufficient?
One issue with Windows 7 is that it doesn't rely on passwords, but on user account authentication. Sometimes you can do a type of password protection on certain files by creating a "guest" account and putting your particularly sensitive documents into that account, but this is a clumsy security method. A third-party tool allows you to password-protect folders and files, as well as compressing and encrypting them for further portability and security if you need those features. Some of these are free, while others need to be purchased:
1 Folder Lock
Folder Lock is an affordable choice. It costs $39.95, but it is extremely powerful, fast and easy to use. It allows the user to either encrypt or password-protect their files, folders, partitioned drives, removable drives, USB drives, and more. Its encryption mode features a 256-bit AES encryption formula, or algorithm, that enables users to encrypt certain items rapidly. In the lock mode, your files and folders aren't encrypted but password-protected. Its free trial allows you to use it 25 times before paying for the program.
2 File & Folder Protector
File & Folder Protector, or FFP, is great because it is very lightweight and has a variety of locking and encryption levels and features. It costs $49.95 for a single user license, but there are big discounts for multi-user licenses. Choose from password with automatic pop-up or automatic context menus, read-only protection, and global or individual folder passwords. Some of the features such as hide and hide name didn't work with Windows 7, but that may be rectified in the future. It also loses effect if attached to a drive not using FFP.
Download Trial of File & Folder Protector
3 Password Folder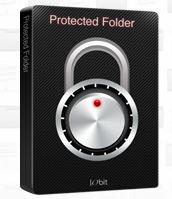 One of our top choices is probably IOBIT's Password Folder. Password Folder is lightweight, easy to use, and has good basic folder protection. Features include being able to hide the folder from view and block user access. The user interface is very simple, just drag and drop items to be locked; the program even protects itself against being uninstalled with a password protection feature. Free programs are often very basic and sometimes even harbor viruses, but Password Folder hasn't had any reports of this happening, and works well.
Download IObit's Protected Folder Software
You don't have to be a super spy, but if you want to protect your work or keep certain items inaccessible by the general public on a shared machine, investing in a folder lock application is smart, since Windows 7 doesn't have that feature built in currently (only encryption is built-in). Most programs do have a price, but are worth it for their range of options, but freeware can be sufficient for those with basic security needs.