If you want to unlock your data card to use other providers than the locked internet providers (SIM Lock), follow the steps after the break.
Unlocking Allowed For Private Use
Unlock codes can be bought from your provider for a good price. You are also allowed to unlock data cards yourself for private use. Warning: It is strictly forbidden to sell the unlocked data cards on places like ebay.
The Process
There are various tools that help you to find out the lock status of your device / data cards, e.g. SIM Card Lock.
1. Step Head over to http://www.dc-unlocker.com/downloads to download the tool DC-Unlocker.
2. Step Tip: You do not have to buy anything to unlock data cards, not even credits from DC Unlocker if your data card only has a SIM Card Lock. However, a hardware lock might require you to go to your data card provider or use tools like DC Unlocker at your own risk
3. Step Connect your Huawei or any other data card via USB
4. Step Wait until you hear the familiar Windows sound that it is connected
5. Step Start DC Unlocker
6. Step Click on the magnifier icon to detect your modem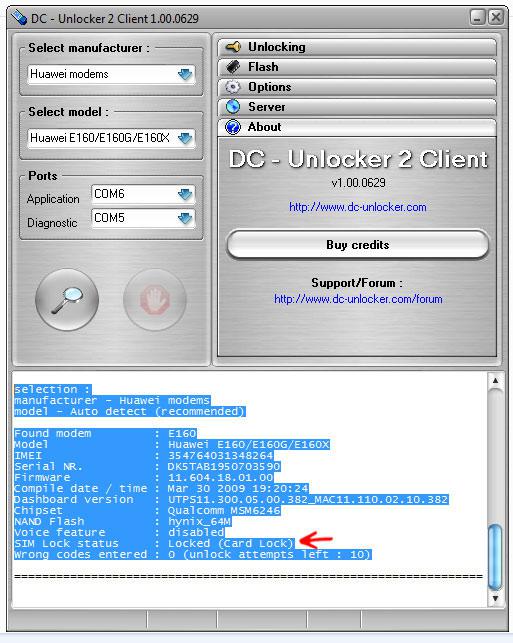 Here is the output of the Huawei data card:
selection :
manufacturer – Huawei modems
model – Auto detect (recommended)

Found modem : E160
Model : Huawei E160/E160G/E160X
IMEI : 354764031348xxx
Serial NR. : DK5TAB1950703xxx
Firmware : 11.604.18.01.00
Compile date / time : Mar 30 2009 19:20:24
Dashboard version : UTPS11.300.05.00.382_MAC11.110.02.10.382
Chipset : Qualcomm MSM6246
NAND Flash : hynix_64M
Voice feature : disabled
SIM Lock status : Locked (Card Lock)
Wrong codes entered : 0 (unlock attempts left : 10)
Ok, now you not only have your IMEI, which can also be found on the HUAWEI device or any other device you are using, you also know the SIM Lock status. The status of my data card is "locked (Card Lock)".
IMPORTANT: If your data card has a HARDWARE LOCK you will need to use DC Unlocker or other tools. If your card only has a Card Lock, you can follow the instructions below.
7. Step Write down the IMEI number
8. Step Go to http://entsperren.at/enterimei_huawei.php and enter your IMEI into the field, then click on "Weiter" (Next)
9. Step Copy the big, big code, which is your unlock code
10. Step Start the software of your data card provider BUT insert the SIM card of your new internet provider.
11. Enter your PIN, then you will be asked to enter an unlock code. Enter the code from step 9
12. Your data card is now unlocked and you can use your data card with other internet providers
DC Unlocker: Supported HUAWEI Models
Huawei B260
Huawei B560 3G router
Huawei E1152
Huawei E122
Huawei E150
Huawei E150 (beeline)
Huawei E153
Huawei E153 Mobinil
Huawei E1550
Huawei E1550 India IDEA (beta)
Huawei E1550 Kyivstar
Huawei E1550 MTS (MTC)
Huawei E1552
Huawei E1553
Huawei E1556
Huawei E156 / E156B / E156C / E156G
Huawei E160 / E160G / E160X
Huawei E161
Huawei E1612
Huawei E1630
Huawei E166 / E166G
Huawei E169 / E169G
Huawei E170
Huawei E171
Huawei E172
Huawei E173
Huawei E173 Mobiphone
Huawei E1750
Huawei E1750 Viettel
Huawei E1752
Huawei E1756
Huawei E176
Huawei E1762
Huawei E177
Huawei E1780
Huawei E1786
Huawei E180
Huawei E181
Huawei E1820
Huawei E182E
Huawei E1831
Huawei E2010 football
Huawei E219
Huawei E220
Huawei E226
Huawei E226 Telcel
Huawei E230
Huawei E270
Huawei E272
Huawei E510 TV
Huawei E5830/E583x/E5836/E5837 and others
Huawei E585 beta
Huawei E618
Huawei E620
Huawei E630
Huawei E630+
Huawei E660
Huawei E800
Huawei E870
Huawei E881e
Huawei E960 / E968
Huawei E970/B970 router
Huawei EG162 / E162G
Huawei EG602 / EG602G
Huawei EM770 Module
Huawei Emobile D01HW
Huawei Emobile D02HW
Huawei Emobile D12HW
Huawei Emobile D21HW
Huawei Emobile D22HW
Huawei Emobile D23HW
Huawei Emobile D26HW
Huawei Emobile D31HW
Huawei MomoDesign MD-@ HSUPA
Huawei UMG1691
Huawei UMG181
Huawei UMG1831
Huawei Vodafone E3735
Huawei Vodafone K2540
Huawei Vodafone K3520
Huawei Vodafone K3565
Huawei Vodafone K3715
Huawei Vodafone K3765
Huawei Vodafone K4505
Need help with unlocking other data cards? Post a comment below