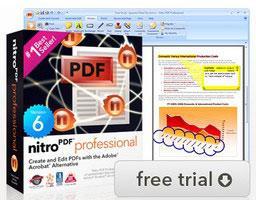 We previously reviewed two free PDF creators for Windows 7. Now, here's a more professional, commercial PDF editor for Windows 7: nitroPDF. Trivia: It's being used by the US Army, HP and Suzuki to create PDFs.

If you need some really high-quality PDFs or if your business involves PDF documents you should definitely consider nitroPDF. The award-winning PDF creator is, hands down, one of the best solution for everything PDF:
Convert PDF to RTF
With nitroPDF you can convert your PDF files to RTF documents or Word documents, but keep in mind that the layout might be a little different, depending on the fonts that are installed on your system.
Easy PDF editing
To edit a PDF document, drag the file into nitroPDF and click on the edit button. You can then edit any line inside the PDF document by double-clicking on it. You can also add text, images, or little notes to the PDF document. Overall, editing PDF files is very intuitive and is as easy as creating PDF documents with nitroPDF.
Snapshot feature
The snapshot feature allows you to select a specific area in your PDF documents and copy it along with any images to your clipboard. You can use the shortcut CTRL + V to copy things from the clipboard (for more handy shortcuts, print the list of Windows 7 shortcuts)
Advanced PDF drivers
If you want to create a PDF document, simply start your favorite writing tool and select the nitro PDF Driver 5 to print your file. The included PDF driver will then convert your document into a PDF file.

You can get a free trial of nitroPDF over at http://www.nitropdf.com/ and start creating the best PDF documents ever.