Have you ever wondered what is the true read/write speed of your USB drive? We have reviewed USBFlashSpeed, a freeware Win app allowing you to test your drive's speed. Read on for more details.
Importance of the right hardware specifications
Regardless of the hardware that you purchase, you are still unsure of how well would it perform against the industry benchmarks. For example, a USB drive may promise 100 MBPS speed but may not provide even 50 MBPS is an unhappy scenario. It is important to purchase products from recognized brands to make sure that you get what you pay for. Just like you can determine the performance your hard drives, CPU, and RAM of your system, you can also measure the performance and speed of your USB Flash Drive. For this, we are reviewing a freeware Win app called USBFlashSpeed. What it does is that it measures any USB drive's speed of reading & writing and publishes the results online in a repository. This helps other users from all around the world to create benchmarks for specific brands and their USB models.
USBFlashSpeed.com, solution to measure your drive speed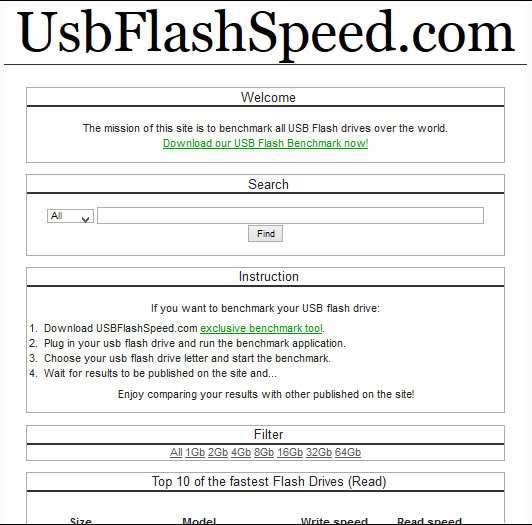 If you look at the main page of USBFlashSpeed.com, you would see that there is benchmark already uploaded by other USB users about their USB drive's reading & writing speed. Not only can it serve useful to other people but also serve as an expectation of minimum performance while purchasing any USB drive. The top 10 fastest USB drives in terms of reading & writing speed are shown right at the home page.
What else can you do? You can use the search filed online so search for a specific model of USB brand and make a well-informed decision before buying. The best part is that it is providing its free variant of the desktop app called USB Flash Benchmark, which you can easily download, install and test your drive's performance.
How to use USB Flash Benchmark?
Not only for USB drives, this program can also be used to test read & write ability of HDDs and SSDs. The interface is extremely simple and easy which even a layman can understand.To check your drive's read & write speed, open up the program, choose your drive from the drop-down menu at top left and click "Start Benchmark." That's all you got to do. Now just wait and watch how it measure's your USB's performance against set benchmarks. If you want to publish your drive's report online to the vendor's website, check Send Report. Once the tests are completed, you get a nice graph that overviews the performance of your USB drive.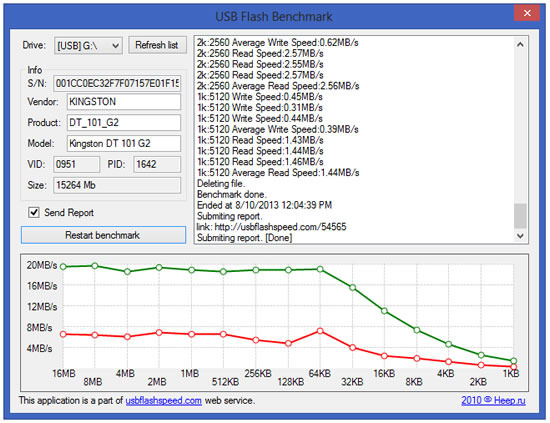 The app uses various read-and-write speeds to test the selected drive. Every activity gets logged in the top right section of the program as tests get conducted. The application is free to be downloaded from usbflashspeed.com and works on Windows XP, Vista, 7 and 8.