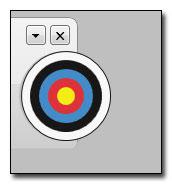 Microsoft is experimenting a lot and is also releasing some prototypes to the public from time to time. One of the most innovative applications they developed lately is Speed Launch, a faster way to access your files, documents, movies, web sites and everything else,
Let's see it in action:

So, what can it do? Well, basically you can drag any file onto the Speed Launch dock bar and then add a new shortcut to your dock and give it a name. The dock itself can be accessed via Windows key + C. Then you can quickly launch any of the shortcuts on your bar or you can enter the name of the program that you want to start (if you have dragged it to the bar previously).
Example: Drag a website to the bar and enter a name for it and you'll be able to access it via the Speed Launch. You can do that with virtually any file.
Image Search, Movie Search, Wikipedia Search
Image search, mega search (bing, yahoo, google), movie search, stock quotes, weather, wikipedia search are included in the tool and you can access all of your old searches via the dropdown field of the bar!

We're searching for information every day and Speed Launch can definitely help to make this easier!
Download Speed Launch and help Microsoft to improve it
Other tools you might want to try: Slider Dock for Windows 7