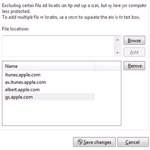 iTunes may return the error 50 when you try to download music or movies from the iTunes store, but it can be easily fixed
Usually this error is shown when your firewall or antivirus blocks the download. In this tutorial you will learn how to fix it!
IMPORTANT: Before you attempt any tips below we strongly recommend that you upgrade to the iTunes version 11 – this may already fix your problems
1. Step Close iTunes and open your antivirus software. Set the antivirus to allow data from the following domains: itunes.apple.com, ax.itunes.apple.com, albert.apple.com or gs.apple.com. Usually you will find an option to allow or exclude the domains in the Settings section of your antivirus or firewall. If you have installed any third-party firewall then double-check it. Next, restart Windows 7 and open iTtunes again. Then attempt to download music or videos again from the iTunes store.
`
2. Step If you are able to download without error 50 then you can skip this step. If you still get the error then close iTunes and delete the iTunes temp files located at
C:\Users\username\Music\iTunes\iTunes Media\Downloads
Next, restart Windows 7 and open iTunes. Then attempt to download again. This time it should work. That are the complete steps to fix iTunes error 50.

`
Conclusion
To fix iTunes error 50, you will need to allow iTunes to access the Internet. Firewalls and antiviruses are known to block it!