I wanted to clarify why some users are not able to install Windows 7 Aero themes on their systems, the answer is quite simple and here's a great tool that you can use to make it work anyway.
Tip: If you have used Aero themes on your system previously and you are stuck in Basic Mode, please read this
Got 2GB Ram? Great: Use This Tool To use Aero Themes on Windows 7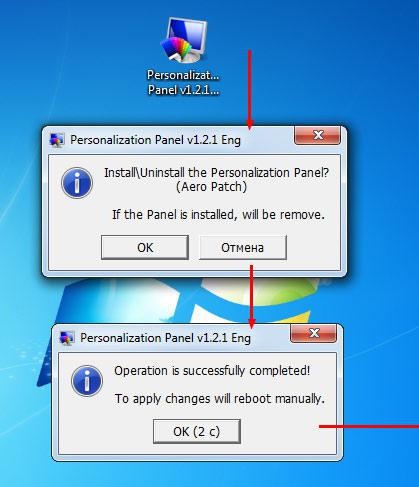 1. Step Download tool from DeviantArt | Mirror
2. Step Install the tool, reboot
3. Step Right-click on your desktop, click on Personalize and you should now be able to use Aero themes on Windows 7 Basic or Starter using the Personalization Control Panel. This may only work on systems with 2GB RAM or more.
Example System That May Make Good Use Of the Tool Above
Just recently, one of our users "Alen" reported this and was quite frustrated about why Aero themes wouldn't work on his system:
I have Windows 7 Home Basic, and gfx that doesn's suppord wddm driver (Ati Radeon 9250). I tried every tricks to enable aero (even on home premium, ultimate) but it's not working. Registry dword value UseMachineCheck set to 0 means that windows does not check if my hardware supports aero, but it seems to me that checking hardware is the least important problem, more important problem is that gfx does not have WDDM drivers, and checking hardware is separated from checking drivers. Can this be solved someway, by hacking or something?
BTW my pc configuration is:
GFX: ATI Radeon 9250 (have the driver, but not WDDM)
CPU: Intel Pentium 4 – 2.66GHz
RAM: 2GB
Hard Disk: ATA 120GB (C-32GB D-79GB) – windows is on C
Windows 7 Home Basic
Home Basic, Starter Do Not Support Aero Without Tool Above But Some Themes Work
As detailed in one of our guides on the subject, WDDM support is essential, but in some cases it is possible to force-enable WDDM on PC's that do not support the WDDM (Windows Display Driver Model) with a registry hack
However, in general without the tool above Aero themes do not work on Windows 7 Home Basic – Microsoft clearly states that Aero will only work on Windows 7 Home Premium and higher (Professional, Ultimate, etc.)
Please correct me if I am wrong, but I believe there is no possible workaround on Home Basic and the Starter version. You can install Basic Mode themes and you should be able to install some basic mode shell themes without installing any tools if you do not want to install any additional patches