Windows 7 is definitely the best Windows ever, but the Windows 7 Search feature is still not what it could be. A search replacement is not on our list of TOP10 Windows 8 features, but there is still a lot of room for improvements.



Fileseek is a great replacement for the Windows 7 search feature that is being developed by Binary Fortress Software, who also created DisplayFusion (a tool for improved multi-monitor support for Windows 7).
Fileseek is a very fast search tool to find everything on your hard drive. It can not only search through filenames, but also through the content of your files and find words inside documents. You can exclude and include certain filetypes and use regular expressions to find your files (a language that is well worth learning and a highly sought-after skill).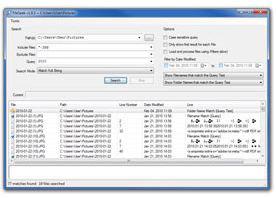 Features:
Search for text string matches inside any kind of file
Match Regular Expressions inside any kind of file
Search a folder and all of it's sub-folders
Match 1 or more file patterns, like *.jpg, file?.txt or anything else you can imagine
Exclude 1 or more file patterns from your search, like *.exe or *.dll
Filter results by the last modified date
Never indexes files in the background
Download Fileseek Search Replacement
If you are looking for a replacement for the built-in Windows 7 search this is definitely one of the best choices. The lightweight search replacement can be download from here: