The most simple things are often the best. Have you ever wished you could trigger any web action with the push of a physical button? Well, now you can, thanks to the folks over at bt.tn and IFTTT. Here's how it works
About The Button
It's a red button that connects via cell or Wifi and can then trigger web notifications via HTTP, IFTTT and other services. The possibilities how to use this are endless: Send notification when someone arrives at your home, process an offline order online, track your time spent working, track your time running errands, track your time doing this or that. It's really simple, but immensely powerful.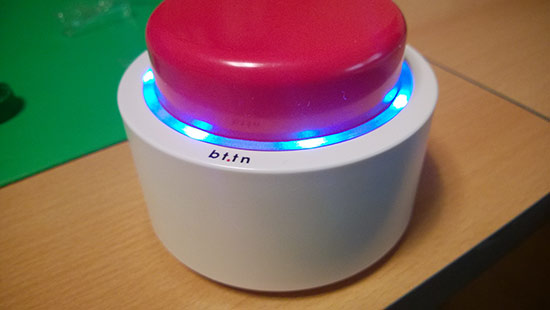 Let's Set It Up
0. Before you can proceed with this guide, order your button at bt.tn – bookmark this page and return when it arrives
IMPORTANT: Order 4 AA batteries from Amazin, it ships without them. Preferably buy some rechargeable batteries, mine went missing and I had to wait a few more days before I could test the button myself.
1. Step Open the package and insert the batteries
2. Step Make sure it's on and hold the button for 15 seconds until blue LEDs turn on. You have just turned the button into a Wifi access point.
3. Step Grab your mobilephone or your laptop and check your Wifi connections. A connection called bt.tn XX will be available. Connect to it.
4. Step Open a browser and enter this address into the address bar: http://192.168.0.1/bttn
5. Step A simple menu will pop up: Enter the SSID (NAME WITHOUT SPACES OR SPECIAL CHARS!) of your Wifi network and the respective password! Save.
6. Step Pull the batteries and wait a few seconds, then put them back in
7. Step Now your button is ready. Go to bt.tn and register your button. You will find the address on the bottom of the button (a numeric ID)
8. Step You can now grant IFTTT access via the site

9. Step When you're done, we're heading over to https://ifttt.com/bttn.
It should say that your button channel is active. Scroll down for some sample recipes that you can use right away: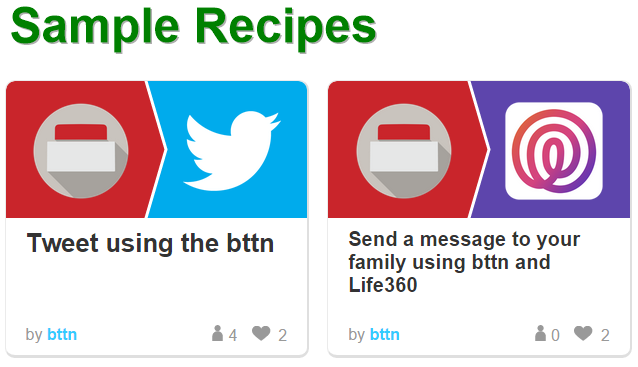 10. Step Of course, the beauty of the IFTTT is that you can now trigger any of the available channels. Various channels like followup.cc, delicious, Evernote, Gmail, Flickr and many others can now perform an action every time you hit the button.
Idea 1: Tracking Time Spent Working
Let's say you're a Freelancer, you can now create precise logs for your time spent working. Simply hit the button when you begin working, then tell IFTTT to add a row to an existing spreadsheet using the Gdrive channel.
Here are two of the Gdrive options you can trigger upon pushing the bt.tn: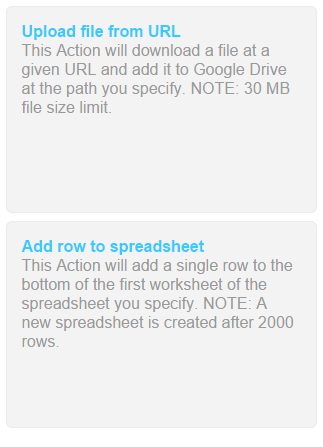 Idea 2: Room Booking
Let's say you share a conference room with others. As the manager, you could trigger some actions that will notify others that a room is now booked for example via the channels SMS, Tweet or GDrive.
Idea 3: Automating Unpredictable Actions
Any action that can be automated where the trigger is not predictable would benefit from the button. For example if you want to log the arrival time of hotel guests in a spreadsheet, you can then simply hit the button and it will be automatically logged without you having to enter it manually. There are many businesses that could benefit from more accurate tracking.