Wondering what Microsoft Streets and Trips is? Check out our software review
In mid-2012, Microsoft announced the release of the new version of Streets and Trips. This is an update to a relatively obscure piece of software, which floated by under the radar for all but the biggest Microsoft fans. What is Microsoft Streets and Trips and do you need it?
The Product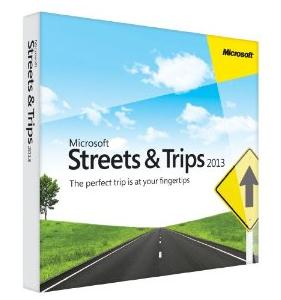 Microsoft Streets and Trips is a route planning program which works as a companion to a GPS system to project the most efficient route from point A to point B. The program boasts the ability to estimate the fuel cost of any trip, direct the user to restaurants, and give directions while driving. The user interface can be accessed either through the separate GPS module or can be viewed on a computer, allowing for easier editing of routes. These routes can also be exported as files and shared with other users who use the program and have a compatible GPS device.
Some History
Microsoft has been making mapping and route finding software, under different names, since the mid 90's. The program was originally a product of the software company, NextBase Ltd. In 1994 Microsoft bought the programming which formed the base of what is now Streets and Trips, merging the routing technology with its Encarta Map program. The program went through a few name changes before being released for the first time as Streets and trips in 2000. Since then, new releases have come out irregularly. On July 17th, 2012, the 2013 version was released.
What's New in 2013?
For users familiar with previous incarnations of the program, there have been some changes. The new version has an expanded atlas with 150,000 more miles of available roads, an easier to read high contrast display, and the ability to look up reviews for businesses and other destinations while en route. For those who enjoy music while they drive, and don't mind getting directions from a laptop screen, rather than a GPS device, there's a new function that pauses Windows Media Player when the program is reading directions aloud, to make for easier listening.
Consumer Reception
Reviews of the product are mixed. It's true that Streets and Trips has its die-hard fans who are comfortable with and enjoy the interface. However, in a world with products like Tomtom, which are both GPS device and route finding software in one, most people don't want to buy those two things separately. Streets and Trips has also been criticized as being horribly inaccurate, with many users claiming as much as a two hour difference between projected ETA and actual arrival time.
Unless you've been using the product for years, chances are you haven't even heard of it. If its quirky approach to navigation hasn't captured your heart, most consumer reports indicate that the buggy new release won't change your mind. For those who are intrigued, Microsoft is offering a 14 day free trial download. If modern trip planning gadgets are a turn off, this might be just the thing to help you plan your next vacation, but try before you buy.