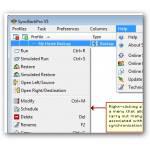 If you are tried of doing backups manually, try the following 5 tools, some support disk cloning

Backups are important to avoid data loss, everyone knows that. It is very difficult to back a desktop or laptop regularly. But backup software like Easeus Todo Backup, SyncBackPro , Acronis True Image Home, Mishell DirDup get the job done
SyncBack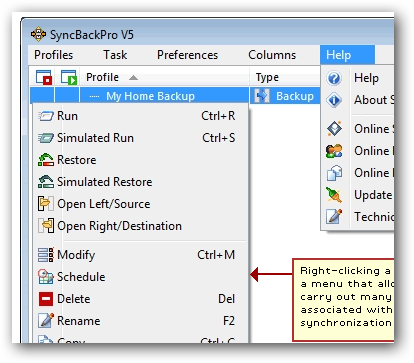 SyncBack is backup software which is a product of 2BrightSparks. It was first released in 2003. Its latest version is SyncBark 5.11.3.0 which was released in March 2011. It has three versions SyncBackSE, SyncBackPro and SyncBack Freeware. The first two versions are shareware and last one is freeware. This software can detect the change of file names and folder names and can correct them if required.
This software encrypts log file and copies symbolic links. It uses hardware serial number for drive detection.It also includes features like copy verification, background backups, auto-close of programs, easy and expert modes, easy to read log files, simulated backups and restore, file filters, sub-directory selection etc . For home and business purpose SyncBack Freeware is used. Features like backup to CD/DVD, 256-bit AES encryption, backup to email servers, scripting, SFTP etc. are included in SyncBackSE, SyncBackPro shareware version.
2 Acronis True Image
Acronis True Image or True Image is Disk cloning and backup software which is a product of Acronis. This software restores the previously captured image to another disk. It makes a replica of the structure and contents to the new disk. It allows disk partition resizing; the new disk can be of different capacity.
The latest version of true image is Acronis True image 2013 released on August, 2012. Acronis True Image Home is a full-featured edition and it is available at retail outlets.It creates two types of backup such as file backup and disk backup. It can create exact backups of a disk drive, sector by sector, called System Images. In this software backups are stored in USB mass-storage devices, FTP servers, hard disk drives, CDs, DVDs, Blu-ray Discs and Removable media such as Zip drives and Jaz drives etc.
It performs browsing of contents of backups and restoring them partially or entirely. As a virtual disk it can also mount a disk backup. File systems like FAT16, FAT32, ReiserFS, Reiser4, Linux Swap, ext2, ext3, ext4 and NTFS are supported by this system.
3 Easeus Todo Backup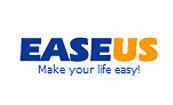 EASEUS Todo Backup is software which has backup and restore utility. This software is developed by CHENGDU Yiwo Tech Development Co. The latest version of this software is EASEUS Todo Backup 5.0.0.1. You can create full partition backup; consisting of sector-by-sector backup. Features like Universal restore, Offsite copy, Control network transfer speed, Pre/Post commands, E-mail notification, Incremental disk and partition backup, Backup network shared files, Event-based backup and Deletion of old images are incorporated in this software. Features of new version like backup tasks and plans can be incorporated to save time and trouble.
For complete backup, recovery and disk cloning it supports GPT disk. One-click to back up system, documents, photos, music, videos and applications are included with the new version. Here it is very easy to recover out lost files. But the disadvantage of this software is that some of the advanced features are included within the professional version only.
4 FBackup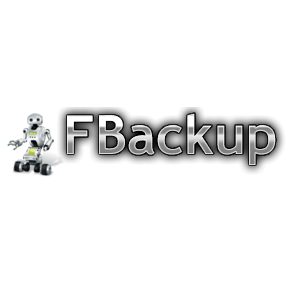 FBackup is absolutely free software which is used for recovery of personal and commercial files. Using this software data can be backed up automatically to your USB or Firewire device.
FBackup4.8 has a very simple interface by which you can get through the process of defining a backup job using a friendly wizard. It has automatic backups with standard zip compression. You can use multiple backup destinations in this software. As we see the main advantage is its automatic back up system. Besides this, another reason for using this software is that it is available in languages like Turkish, Thai, Swedish, Spanish, Serbian, Russian, Portuguese, Hindi, Japanese and English etc.
5 GFI Backup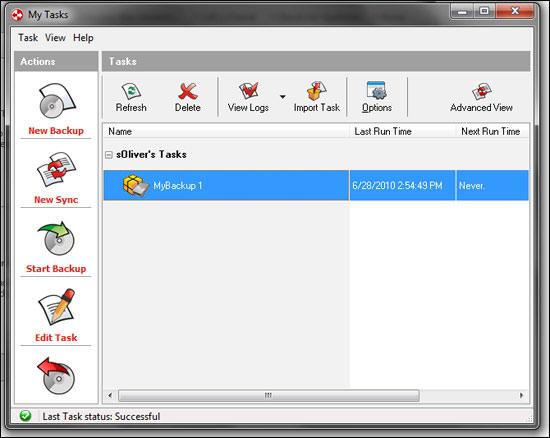 GFI is used mainly because of its built-in VSS service. The backup procedure is easier and simpler because it has the capacity to volume shadow copy. This software gives you auto notification after the backup procedure.
It has Network wide backup and restore capabilities. This software can give a backup to a wide variety of media. This software also has extensive scheduling controls, secure backup, complete set of backup types, granular control on user actions, full visibility on systems operation etc.