The problem is well known, in Windows 7 we frequently dealed with the annoying "consider replacing your battery" message and we fixed it, here's how to fix battery problems in Windows 8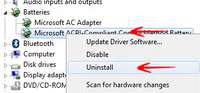 Battery problem is a hot debated issue all over the world when it comes to Windows 7 and now Windows 8 Consumer Preview version. Ever since Windows 7 was released, there had been sky rising complaints of Windows users thrashing the "consider replacing your battery" and "your system might shut down suddenly" messages. The anger and frustration led the Redmond Giant to open up a thread on their official website in 2009 and since then it hasn't stopped growing yet. Microsoft tried to resolve the problem but failed to do so completely given the rising number of battery problems even though the battery is working in perfectly fine condition. Although there are numerous methods that you can try out, I am using the one that has gained most popularity over the past couple of months in repairing the battery problem in Windows 8.
1. StepInitiate Run (Windows Hot Key + R) and type in devmgmt.msc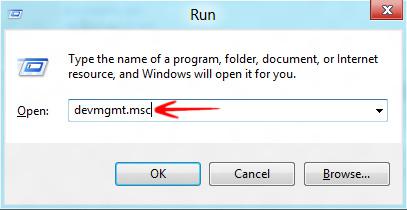 2. StepNow browse to Batteries and right click Microsoft ACPI Compliant Control Method Battery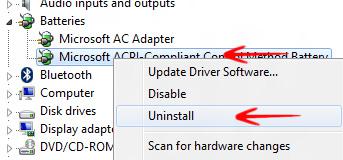 Conclusion
That should solve the battery problem. You need to now restart your system in order to apply the changes you have made. Let Windows 8 Consumer Preview automatically detect the hardware and make the changes for you. In case this solution does not work, you need to take your laptop to the regional office of your manufacturer and get the problem solved from them.