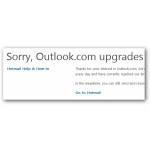 If you're trying to sign into Outlook.com you currently might run into this error "Outlook.com upgrades aren't available"
Possible Maintenance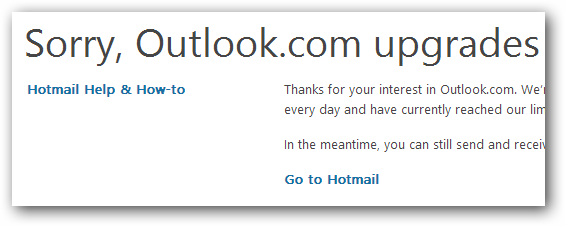 It's possible that Microsoft is currently doing a maintenance or forgot to fix it.
Try POP3 / SMTP To Send and Receive e-Mail Instead Of Signing In Directly
Try logging in and fetching your mail via POP3 supported email client – for that you need to know the POP3 and SMTP server addresses
Your username will look like this: add@outlook . com
POP: pop3.live.com
Port: 995
Use SSL/TLS
SMTP Server: smtp.live.com
Port: 587
Use STARTTLS
Apparently, they are redirecting all requests to Outlook.com to this page, which is a little annoying considering that I've already signed up for Outlook.com and don't need an upgrade
This will be fixed in a couple days hopefully.
Other Sign-In Problems
Here are some general troubleshooting problems if you manage to access Outlook.com
Check your firewall
Clear your DNS cache
Remove cookies, possibly you have a bad cookie
Restart your PC
Check if Microsoft is having trouble with their servers
Try logging into your account from another PC
If you are unable to log into the account from another location or machine, it's likely a problem on Microsoft's side
If you're still having trouble with the sign-in post your exact problem below