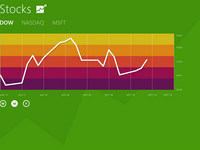 Windows 8's release to manufacturing (RTM), wasn't supposed to leak builds and have images surfaced online of the operating system. Both have happened, with the experience we can expect to see from our first boot of the OS.
Interested to see what you'll be using on day one of Windows 8? Read on
It's been a couple of days after the announcement of Windows 8 heading to RTM, but Microsoft hasn't had time to rest. Leaked build surfaced online, the Metro branding is going, and now photos of the stock (pre-installed) apps in Windows 8 have surfaced.
So what's new? Well nothing, really, but the OS look slightly more sleek compared to past versions.
Xbox Music
The Xbox Music app – replacing Zune, of course – shows Now Playing songs, and to the right the store. There's also a My Music section, for viewing a list of tracks with a thumbnail of album art, and four options in a left-hand column: albums, artists, songs, and playlists. There's also an option to play all music installed.
In typical Metro – I mean, future-branding-we-don't-know-about – style artists biographies have a huge accompanying image. The biography is also long, so no need to head to Wikipedia when researching an artist's background.
Xbox Video
Video in Windows 8 looks simple: there's the Spotlight area for highlighting content, and the movies store. The latter shows featured, newly released, and top selling movies. Searches can be filtered by genres and studios. My movies is similar to my music, splitting video into movies and television shows.
Photos
An excellent example of why the design in Windows 8 is a big step forward from Windows 7, Photos has a row of photos on the bottom for navigating through. The row has preview images, and behind the smaller images is the currently selected image in full size.
Breathtaking
Photos are also split into the picture library alongside SkyDrive, Facebook, Flickr and other libraries that can be added via the Devices tile.
Xbox SmartGlass
An app we haven't seen before, considering SmartGlass got announced during Microsoft's E3 2012 conference, SmartGlass is a service for providing added context on content. The app shows content on the Xbox dashboard, and game that can be selected.
We'll continue the coverage of apps, and our immediate impressions, so stay right here.