You may not appreciate the fact that all of your online actibity can be recorded.
Every site that you visit is logged, however, you can set your browser so that your activity is not disclosed and it appears that your are visting from only one website or ip address.
Online Activity
You may not readily realize this, but all of of your online activity is tracked. Adverstisers and search engines trrack your activioty in order to determine and predict your behaviour online, you can hide your tracks by surfing anonously with a proxy.
There are both free and paid proxies, and in this article, you will discover, how easy it is to remain undiscovered with a proxy
How to use a proxy server
To remain anonymous , you can set your browser to use a proxy server.
However some sites that you visit may not load, if it is recognised that you are using a proxy server.
There are several free proxy servers , or you can use a inexpensive service. What you need to obtain is the IP address and the port of the server that you wish to use.
1. For a list of free proxy servers you can visit www.publicproxyservers.com or do a search for free proxy servers.
Record the address and port number. If the address is shown as 123:54:67:98:80 it means that the IP address is 123:54:67:98 and the port number is 80.
2. Open a browser window and go to tools then click settings
2.1 If using Google Chrome, Find Network with the show advanced settings .. link at the bootom of the page, and click the Change proxy settings.. button

2.2 If using IE, Click tools, then Internet Options then open the Connections tab in the window. Click the LAN settings button.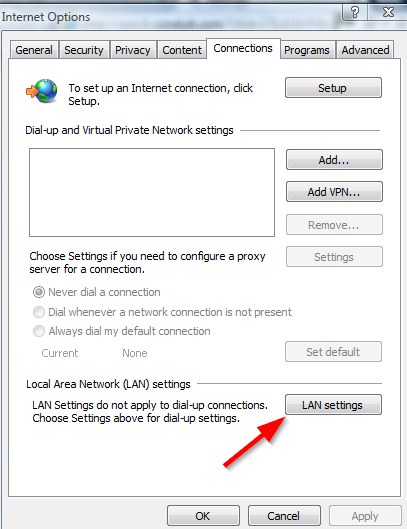 3. Enable the Use a proxy server for your LAN checkbox and type in the IP address of the proxy server you wish to use. The default port number is usually 80.

4. Enable the Bypass proxy server for local addressses check box and Click OK.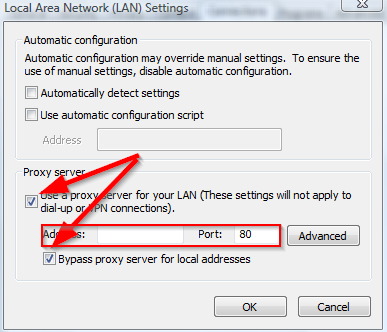 If using Firefox the procedure is a little bit different.

5. Open a window in Firefox and click Tools, then Options and open the Advanced tab.
On the Advanced menu, open the Network tab and click Settings in the Connection panel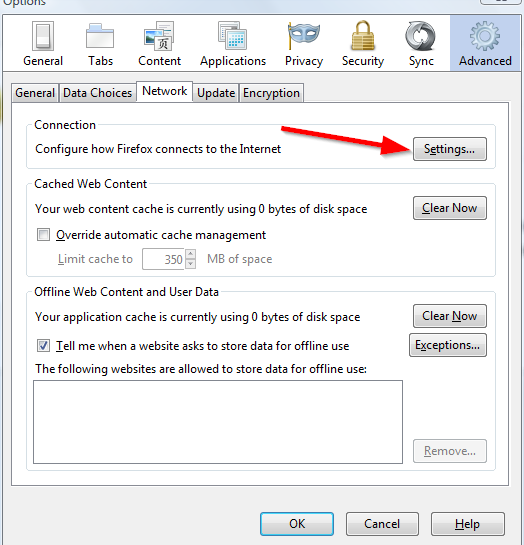 6. Enable the Manual proxy configuration radio button.
7. Enter the IP addrress and port number of the proxy server.
8. Tick the Use this proxy server for all protocals check box.
9. Click OK.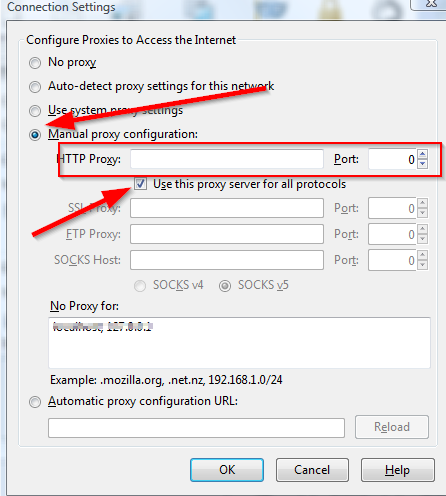 Conclusion
There are several reasons why you may wish that your online activities remain private.
The website servers records all the pages that you access, by recording your computer's IP address, and other information such as the date and time that you visit. How long you spent, and the browser that you are using.It may even be able to record more detailed information.
You can prevent this and feel a bit more secure, by using a proxy server.