Our backup software giveaway ended, but luckily there's also free backup software that supports Windows 7 by now. This is a review of the 5 best free Windows 7 backup tools.
Backup Software Overview
We have reviewed various tools that you can try for free:
| Feature | Cucku | Cobian 10 | Comodo | GFI |
| --- | --- | --- | --- | --- |
| Scheduled Backup | | | | |
| True Remote Backup (via IP) | | | | |
| Backup to FTP, Network Drive, External Drive | | | | |
| Unlimited Backup Size | | | | |
| Compressed/Encrypted Backup | | | | |
| Run Backup as service | | | | |
| True Incremental Backups | | | Unconfirmed | |
| Volume shadow copy | | | | |
| Requires E-Mail Submission* | | | | |
| Synchronize 2 PCs | | | | |
| E-Mail notifications | | | | |
| Verify Backup | | | | |
100% Recommended: Cobian 10 & GFI
"Social" / Remote Backups: Cucku
Not recommended: Comodo Backup
*Requires E-Mail submission in order to download the software.
Cobian 10: Best Free Backup Software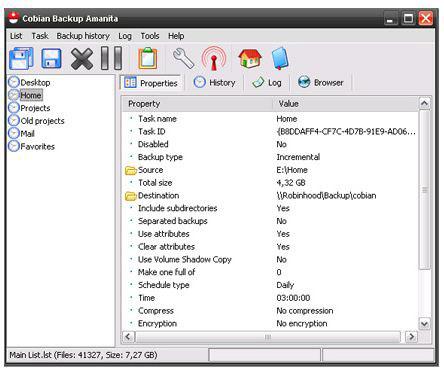 Cobian Backup is a top-notch backup solution that supports Windows 7 since version 10. This backup tool has the best interface of all, very clean, simple and easy-to-use! The advanced options allow you to fine tune your backup. Here are just a few examples:
Copy file attributes (y/n)
Copy file timestamp (y/n)
Copy NTFS permissions (y/n)
Include junctions points (y/n)
Check CRC of compressed backup files (y/n)
…
Cobian 10 also includes a Remote Manager for remote sessions, which is very useful if you want to backup to a remote PC. For remote backups this is definitely a good choice, as well as Cucku.
Download Cobian Backup Software
GFI Backup: Professional Free Backup Software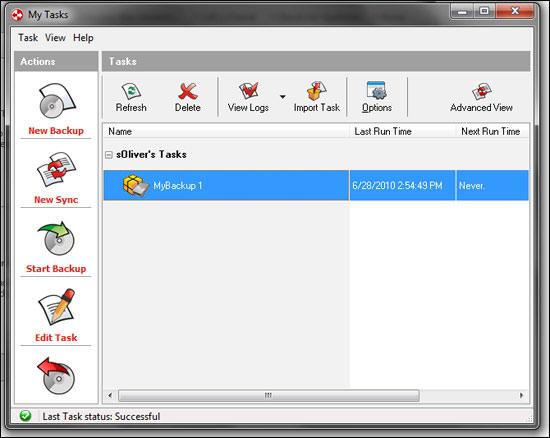 GFI and Cobian are both very good backup tools for Windows 7. GFI Backup got the job done quickly and efficient. It's a very professional tool: The built-in VSS service (Volume Shadow Copy) can create backups of files that are still in use. You know that problem, right? Sometimes you try to copy a file and you simply can't paste it anywhere because some random process is still accessing it. A shadow copy is the solution. After creating a backup, you can auto-notify yourself via mail and let GFI verify the backup.
GFI Backup is also the only free software that comes with a "synchronize" solution. Well, basically you can use a backup software to synchronize two PC's, but when the backup software has a synchronize feature it's even more comfortable, isn't it?
Cucku Backup: The Social Backup Software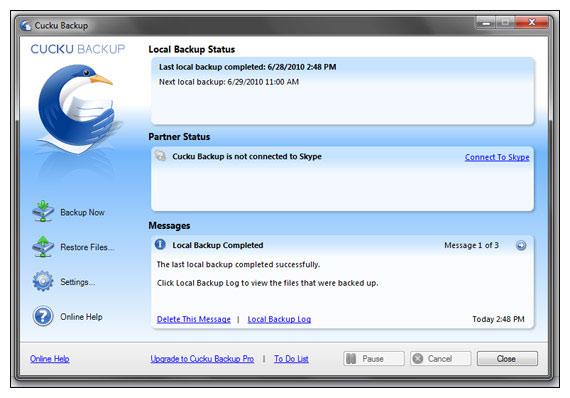 Cucku is a social backup software that is there for you and your friends and family. You can backup from multiple remote PC's of your friends simultaneously. Supported systems are Windows XP, Windows Vista and Windows 7. The idea of a social backup software to help out people is great. You can specify "partners" that can either backup to your PC or receive a backup from you. In order to make the remote backup work, you will need a Skype ID. If you or your partner change a file, Cucku will only backup the files that were changed.
Download Cucku Backup Software
Comodo Backup: Below Average (Not Recommended!)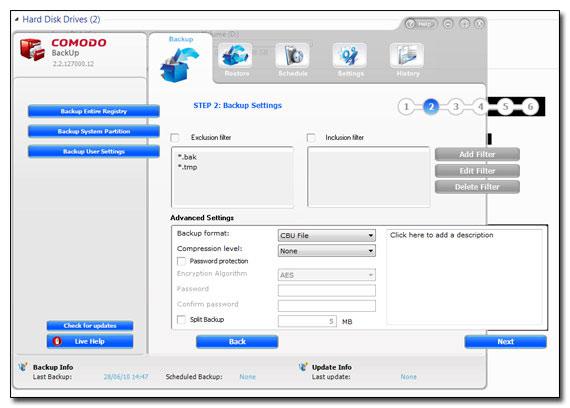 Comodo Backup is another freeware backup software that supports not only Windows 7, but also XP, Vista and Server 2003/2008. To be honest, this software is not what I expected from Comodo. Their free firewall is one of the best, but their backup software is average at best. The interface looks slightly broken on Windows 7, the software is not easy to use and not very user-friendly.
Yes, they put some work into this software, but the end result can simply not compete with Cucku, GFI or Cobian.
Download Comodo Backup Software
Paid Alternatives
Paid alternatives that we recommend include Macrium Reflect. Although it appears to have problems with backing up SSDs at times, Macrium Reflect is far more reliable than Acronis and can create virtual images that can be mounted.