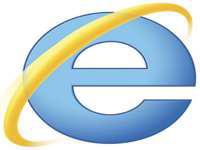 Microsoft recently announced it will update Internet Explorer 10, its browser, to fix exploit for Adobe's Flash software.
Microsoft said it wasn't going to fix the exploit until October, so it's a bit early on that date.
Microsoft will be updating the Flash exploit in Internet Explorer 10 soon
PCWorld reported Microsoft is responding for updating Flash in Internet Explorer because it integrated the software directly into IE, like Google's Chrome browser. Usually Adobe is responsible for updating its software. Microsoft said on the update that patching Flash through Windows allows Microsoft to make security more convenient for its customers. Presumably that means Microsoft can offer a dedicated and known place for updates, rather than browsing to Adobe's website, and searching for the relevant operating system and browser.
Patches for the feature-limited version of Windows 8, Windows RT, arrived earlier in the year though the finished code for the version of Windows 8 did not get the updates. The patch therefore is still needed.
PCWorld added the update will arrive on Friday and will be available for Windows 8 RTM and to Windows 8's Release Preview. Given how the Release Preview doesn't expire until January 31, 2013, users can get a free version of Windows 8. Especially app released from October are available in the Release Preview.
Informing Consumers Of Issues
Microsoft will release individual Internet Explorer 10 Flash updates to maintain parity with Adobe, not adhering to a fixed schedule. Adobe doesn't have a fixed schedule, so Microsoft may want to avoid some users heading to Adobe's website to download the update directly while others wait for it to arrive through Microsoft. The software giant added updates will arrive outside of the monthly schedule depending on the threat level. What that threat level isn't confirmed.
It's a difficult decision for MIcrosoft. Does it keep updates until the next month's patch, releasing a bigger download, or release updates seemingly randomly. If a threat is causing an update then Microsoft needs to make consumers aware of what's happening. With notifications in Windows 8's Modern UI side then the information available to users may be better rather than searching the internet individually.
Windows 8 launches October 26. A media event is being held September 25 to celebrate Windows 8, in Microsoft's words.