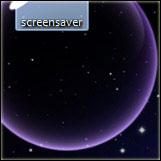 If you have restored the show desktop icon, you might also want to make a shortcut to your screensaver. Of course, the screensaver will automatically start after a few minutes, nonetheless it might be handy to have a shortcut.
Create Desktop Shortcut to Screensaver
1. Step Create a new shortcut on your desktop.
2. Step Right-click on the shortcut and click on Properties
3. Step As the Target enter the full path to the screensaver that you want to launch, e.g. %systemroot%\system32\Bubbles.scr /s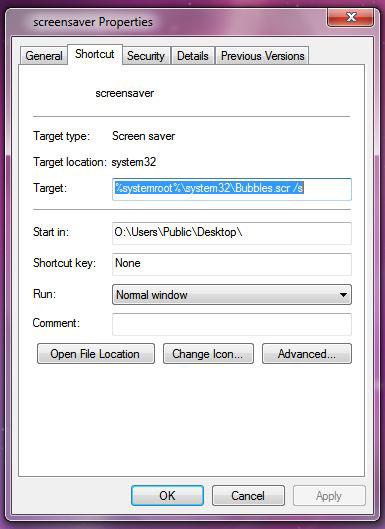 4. Step Replace Bubble.scr with the name of your screensaver.
Tip: All screensavers are located at C:/Windows/system32/ – enter Bubble to jump to the Bubble.scr and then click on sort by type at the top
5. Step Change the desktop shortcut icon. I used a blank icon and moved the icon so that only half of it is visible: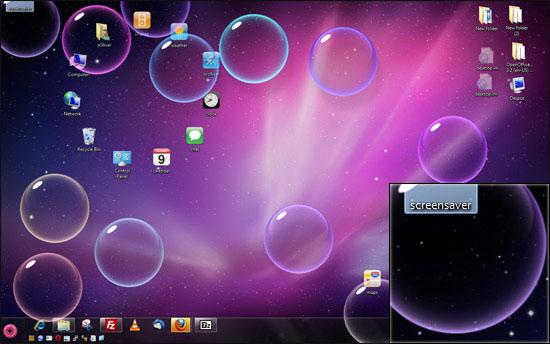 Don't like the arrow? You can download a blank desktop icon here, that also allows you to remove the shortcut arrow in Windows.
List of Windows Screensavers:
Replace Bubble.scr with one of the following screensavers if you don't like the Bubble screensaver:
Mystify.scr
PhotoScreensaver.scr
Ribbons.scr
ssText3d.scr (3D Text screensaver)
scrnsave.scr (blank screensaver)
Aurora Screensaver
If you want to customize the default screensaver in Windows 7 read our guide: How to customize Windows 7 screensaver
Should you miss the Aurora screensaver that you might know from Vista, get it here:  Download Aurora Screensaver for Windows
Create More Shortcuts
Want to create even more useful shortcuts?