This handy gadget tracks your current upload and download usage on whatever network card you choose in your computer!
The gadget provides both a visual representation and exact kilobyte usage for uploads (TX) and downloads (RX). The gadget can be set to monitor whichever network card you'd like to use, so it can track both wireless and wired cards if need be. The gadget also displays the name of the card currently being monitored.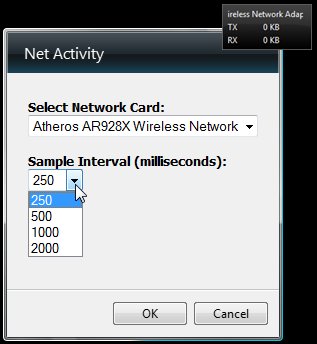 The options window allows you to select which network card you'd like to monitor the activity on from a drop-down list. You can also choose different sample intervals (in milliseconds): 250, 500, 2000, 0r 2000. This is a fantastic gadget for monitoring your network!
File Download
If you're on a metered connection, keeping track of network activity is important – this gadget makes it a lot easier