If you are using a proxy to browse some US websites and you get the error "The requested URL could not be retrieved", try this to avoid the problem.

ERROR: The requested URL could not be retrieved
I received the following error when using Socks v5. While I assume that this is a misconfiguration of the proxy provider of the SQUID proxy server, it can help to switch from Socks v5 to Socks v4.
ERROR
The requested URL could not be retrieved

The following error was encountered while trying to retrieve the URL: http://www.google.com/

Access Denied.

Access control configuration prevents your request from being allowed at this time. Please contact your service provider if you feel this is incorrect.

Your cache administrator is root.

Generated Mon, 21 Mar 2011 16:07:01 GMT by server.domain.com (squid/3.0.STABLE10)
Switch From Socks v5 to v4
1. Step Install Firefox and download the plugin FoxyProxy
2. Step Hit CTRL + F2 to open the FoxyProxy Global Settings page
3. Step Select your proxy and click on Edit Selection: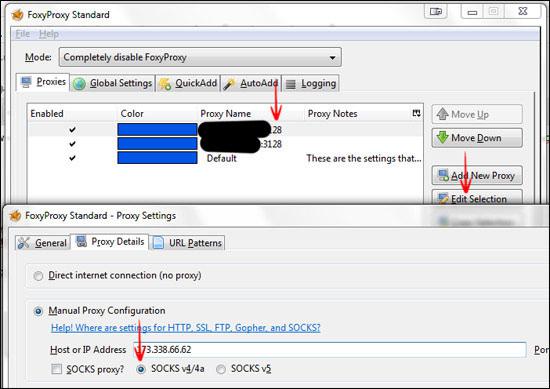 4. Step Check Socks v4/4a and click on OK
While I can't guarantee that this will work in all cases, I always recommend to contact your service provider. If you ARE the service provider, I'd suggest looking into the SQUID configuration files and documentation.