Do you have a couple large files that you want to send to a friend via e-Mail? Nothing easier than that. You can either learn how to split your large file with 7zip or use this free software to store and send your files that is being used by 40 million other people.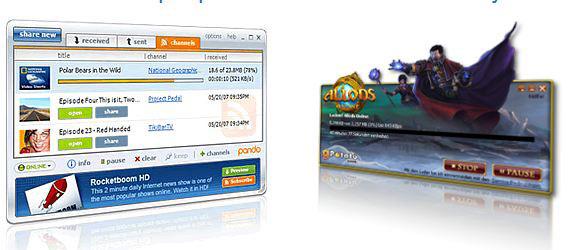 The software that I use to send large files through e-Mail is called Pando. Pando is a free software for Mac OS X, Windows XP, Windows Vista and Windows 7. Again, according to pando.com over 40 million users are already using Pando worldwide, so expect to get a Pando email attachment sooner or later.
How does Pando work?
Pando will store your large file on their server and will automatically insert the download links into your mail. 100% hassle-free. Tip: If your files are private make sure to encrypt them and put a password on it.
Share Large Files via Mail, IM or Web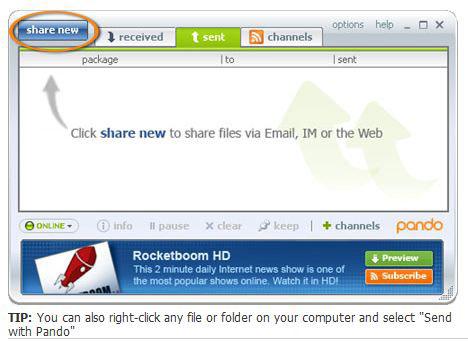 1. Step

Click on the Browse button

2. Step

Find your large files

3. Step

Drag your large files into the white area where it says in gray "Drop files and folders here" and enter a package name below

4. Step

Click on the blue link and enter your mail address. Enter a subject/message.

5. Step

Click on Send to upload your files and send your mail including the Pando download links
Receive Large Files via Mail
Want to receive large files too? If you see a file with the file extension .pando (right after the filename) you simply have to double-click the file to open it with Pando. Pando will start downloading the large file for you.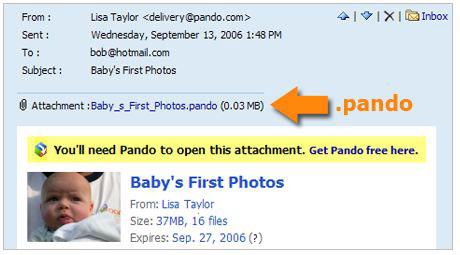 Outlook Plugin
If you own Outlook, make sure to install the Pando plugin during the Pando installation, it will greatly simplify sending large files through mail, because all you have to do is to attach files in Outlook and Pando will do the dirty work for you!
Download Pando (Freeware)

Pando Pro (Send Larger Files / Ad-free)
Pando is 100% free. However, they also provide a Pro upgrad. Pro users enjoy a lot of benefits:
Faster download speeds
Share even bigger files through email
Ad-free
Files will be available longer
Put passwords on your files
Free support
Best of all, Pando is very cheap and will only cost $24.95 for one year.
Are you using Pando? We want your feedback! Let us know how Pando works for you.